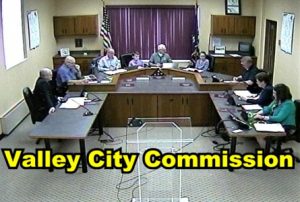 Valley City  (CSi)  The Valley City Commission met in Regular Session Tuesday evening at City Hall. All members were present.
A proclamation was read by Mayor Carslsrud, "TO BECOME A CARDIAC READY COMMUNITY."
He said the proclamation stems from information from the American Heart Association, North Dakota Health Department, and the Cardiac System of Care.
He said a community awareness campaign includes the community learning, CPR, AED's  and other life saving measures.
Valley City is asked to become a Cardiac Ready Community by October of 2018.
APPROVAL OF CONSENT AGENDA ITEMS:
 An Initial Application for Electrician license for Crossroads Electric, Inc.
PUBLIC COMMENTS … No one spoke
Attorney General's "A Citizen's Guide to North Dakota Open Records & Open Meetings Laws" *A member of the public does not have the right to speak to the governing body at an open meeting. The public is only entitled to see and hear what happens at a meeting, and to record or broadcast those observations.
No personal attacks to persons present or not
No inflammatory language used during time that you have the platform
5 minute maximum or as directed by the chair
Thank you for participating in City Government.
ORDINANCES
Approved second and final reading of an Ordinance amending the  Zoning Map, by changing the zoning use districts as established on the zoning map.
Mayor Carlsrud thanked those on the Planning and Zoning Committee for their work on the amendments.
NEW BUSINESS
Approved a contract with Stantec, for the Valley City Comprehensive and Transportation Plan with City's cost share in the amount of $149,696.00.
City Administrator David Schelkoph said four engineering firms came forward and Stantec was selected.
The cost share ratio of the $384,000 this contract is divided up with $234,000 to be paid by the North Dakota Department of Transportation due to a large portion of the plan concerning city roads, with the city's share at $149,000 under the plan.
He added that $100,000 is set aside in the city budget this year, and another $50,000 to be added from the budget next year.
Approved a Relocation of the 24 hours 7 days per week  drop off site to the landfill.  City Administrator Schelkoph it will include trees, and yard waste.  Schelkoph said a time table and implementation will be established.
The area is for residential usage.
Approved a Contract with State of North Dakota Authorizing the Office of State Tax Commissioner to administer the City's local sales, use and gross receipts taxes for the 2017-2019 biennium.   City Auditor Richter said the state will keep $805 per month from the sales tax collections for administration.
Approved a recommendation to award a bid for new patrol vehicle.   Police Chief Hatcher said the vehicle will replace the patrol car damaged in a recent traffic crash.
Of the bids submitted he recommended and the Commissioners approved the bid for a 2017 Ford Explorer from Stoudt-Ross Ford in the amount of $30,430.
Approved the  Canvassing Board for May 23, 2017 Special City Election.  City Auditor Richter said the vote will be canvassed on May 30, 2017.
Avis Richter
Dave Carlsrud
Deb Bjornson
Pat Fearing
Wes Anderson
Approved a Preliminary Engineering Agreement with KLJ to complete the Feasibility Study for the Rehabilitation of the Mill Dam in an amount not to exceed $43,065.   KLJ  will present three options that will be identified and presented.
The City Commission approved spending $18,531.
Approved a Special Alcohol Beverage Permit request for NuBar for Rally in the Valley Street Dance on June 17, 2017 on Main Street
CITY ADMINISTRATOR'S REPORT Highlights…
He said the recent citywide cleanup went well.
He noted that two city franchise agreements are up for renewal, with talks in progress with Cable Services, Inc., (CSi) and Century Link.
He said franchise options range from 10, 15 and 20 Years, with the last franchise agreements for 10 years.
He added that both utilities have been in Valley City for decades and  have worked well with the City in the past.
Discussions will be continuing with the utilities.
CITY UPDATES & COMMISSION REPORTS
City Auditor Richter noted vacancies on city boards with information and applications available at City Hall.
She added that the Special Election for the election of a City Commissioner is May 23, 2017 with the polls open from 7-a.m., to 7-p.m., at City Hall.   Absentee ballots are available at City Hall, through Monday May 22, 2017.
Mayor Carslrud reminds residents to be aware and cautious of city workers and others in the streets.
The meeting was shown live on CSi Cable 68 followed by replays.