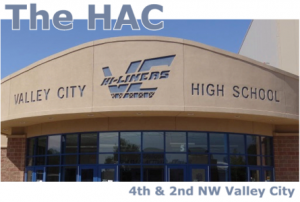 Valley City (CSi Sept 13, 2017)  A Valley City man was arrested Wednesday afternoon, following the lockdown implementation procedure at  Valley City High School.
A news release from VCPS Superintendent Josh Johnson, School Resource Officer, Sean Hagan, and the Valley City Police Department, said the lock down was in effect, for a short time beginning at 1:04-p.m., after the unidentified man entered the high school building after trying to attend a college career day in the Hi-Liner Activity Center.  He was told the event was not open to the public, with the School Resource Officer notifing on duty Valley City police officers of the situation and shortly after, officers observed the man entering the school through a different door.
Police reported that the individual was located quickly in the building and arrested and the lockdown was then lifted, with the normal school day continuing..
Police Chief Phil Hatcher's news release continued that police identified the man, 20 year-old Lucas Bergenheier of Valley City.
Hatcher says are charges pending for Criminal Trespass and Disorderly Conduct.
Hatcher said the Valley City High School staff acted appropriately during the event, activating a lock down procedure to ensure the safety of all students and staff.