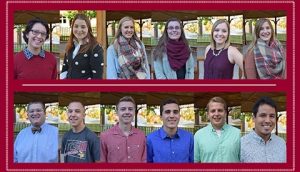 Valley City  (VCSU)  Pictured are the students in the 2017 Homecoming Court.
Queen candidates are (top, l to r) Brandi Aranda (Hitterdal, Minn.), Hannah Gress (Fargo, N.D.), Autumn Johnson (Hazen, N.D.), Melissa Port (Fargo, N.D.), Brittany Roney (Oakes, N.D.), Callie Smith (Watford City, N.D.).
King candidates are (bottom, l to r) Miles Libak (Seattle, Wash.), Jacob Pommerer (Oriska, N.D.), Alex Quist (Bismarck, N.D.), Orin Rambow (The Pas, Manitoba), Austin Rinas (Bisbee, N.D.), Oscar Suniga (Hemet, Calif.).
Coronation will be held at 7 p.m., Oct. 12, in Vangstad Auditorium.