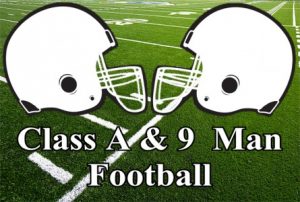 BISMARCK (AP Oct 11, 2017) The final Class 9-Man football poll has kept the same team in the premier position from the opening poll of the season, as Cavalier sits number one; voted by members of the North Dakota Associated Press Sportscasters and Sportswriters Association.
On the Class A side, a new number one, after the Hillsboro/Central Valley Burros walloped Ellendale/Edgeley/Kulm last week in a battle of the top two ranked teams.
First place votes are in parenthesis, followed by the team's record, and the number of total votes received.
Class 9-Man
Cavalier (11) 8-0 71
2. Wyndmere/Lidgerwood (4) 8-0 67
3. New Salem-Almont/Glen Ullen (1) 8-0 48
4. Thompson 6-2 20
5. Napoleon/Gackle-Streeter 8-0 16
Others Receiving Votes: Bismarck Shiloh Christian (7-1), Mohall-Lansford-Sherwood (7- 1), North Prairie (8-1)
Class A
Hillsboro/Central Valley (13) 7-0 81
2. Langdon Area/Edmore/Munich (4) 7-0 72
T-3. Velva 7-0 38
T-3. Ellendale/Edgeley/Kulm 6-1 38
5. Dickinson Trinity 5-1 19
Others Receiving Votes: Minot Bishop Ryan (6-1), Beulah(6-1), Fargo Oak Grove (6-1), Des Lacs Burlington (6-1)