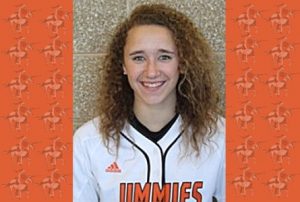 Madison, SD  (UJ.edu) Meghan Ramage has been named North Star Athletic Association Player of the Week, the conference office announced Monday.
Ramage had an impressive day at the plate for the 16th-ranked Jimmies against Waldorf (Iowa) on Thursday. In UJ's 15-5, 5-inning win, she was 4-for-4 with a home run, a double, and five RBI, and also scored three times. Ramage followed that up with a 2-for-4 performance with a triple and an RBI in UJ's 11-1 win in five innings. She extended her hitting streak to 10 games, and has now hit safely in 17 of her last 19 contests, raising her average to .415 on the year.
Jamestown is scheduled to play a home-and-home series with Mayville State (N.D.) Saturday and Sunday.