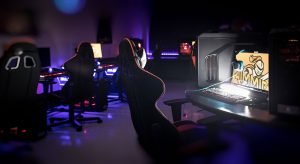 BISMARCK, N.D. (AP) — Fourteen high schools in North Dakota plan to form competitive video gaming teams during this upcoming school year as interest in esports increases nationwide, including at the collegiate level where scholarships are offered for varsity teams.
(Photo: University of Jamestown)
The Bismarck Tribune reports that Mandan High School is one of them. Mandan Superintendent Mike Bitz says the school will spend around $20,000 this year to buy computers and other equipment to construct an esports lab for students.
Bitz says esports will help an "underrepresented population" of students who might not otherwise partake in school athletics or activities feel more included.
The Mandan esports season is slated to begin in October and will last through December.
Two universities in North Dakota have an esports team, the University of Jamestown  team, and Dickinson State University and Bismarck State College will start teams this fall and one more college will launch a team this fall.