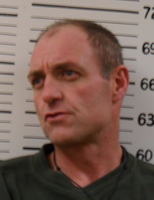 Jamestown, ND (KCSi-T.V. News Dec 21, 2012) — The Stutsman County Sheriff's Office is asking for the public's assistance looking for Pete Koble.
The 45 year old Kolbe is a white male, 5 feet 11 inches tall with blue eyes and brown hair.
His last known address was Kathyrn, North Dakota.
Authorities say, Koble has bench warrants for his arrest for possession of a controlled substance with intent to deliver, and two possession of drug paraphernalia charges.
Anyone with information on Koble's whereabouts is asked to call the Stutsman County Sheriff's Office at 701-252-9000.