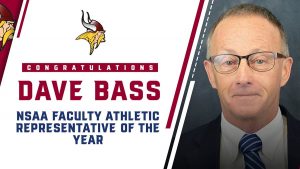 Valley City  (VCSU)  Dave Bass, assistant professor in the VCSU School of Education and Graduate Studies, has been named the 2021 North Star Athletic Association Faculty Athletics Representative (FAR) of the Year, the conference announced Saturday.
Bass has served as VCSU's FAR for more than 20 years, acting as a liaison between the athletic department and the institution as well as handling eligibility and academic questions. He was inducted into the VCSU Athletic Hall of Fame in 2017 for his many years of service to VCSU as a coach and FAR. Bass is also the NSAA eligibility chair and the FAR liaison to the NSAA Board of Directors.
"Dave is dedicated to the success of the student-athletes both at VCSU and in the NSAA," said VCSU athletic director Jill DeVries. "He is without a doubt the 'go-to guy' for eligibility questions and compliance at Valley City State along with many other NSAA and NAIA institutions."
This is the fourth time Bass has received the honor since 2015. He previously was named the NSAA FAR of the Year in 2015, 2016 and 2018. In 2017, he was named the National Association of Intercollegiate Athletics (NAIA) Wally Schwartz Faculty Athletics Representative of the Year.
Bass has served 14 years as the eligibility chair for three different conferences. At the national level, Dave has served on the NAIA Council of FARs and the Learning Disability Advisory Committee. Prior to taking over as VCSU's FAR, Bass coached Viking track and field and cross country from 1981-91.
The 2020-21 NSAA Administrative Awards are listed below.
Commissioner's Cup Champion:  Dickinson State University
B.O.S.A Cup Champion:  Mayville State University
Athletic Trainer of the Year:  Tim O'Brien, Mayville State University
SID of the Year:  Nick Huntimer, Dakota State University
FAR of the Year:  Dave Bass, Valley City State University
Athletic Director of the Year:  Ed Lehotak, Bellevue University