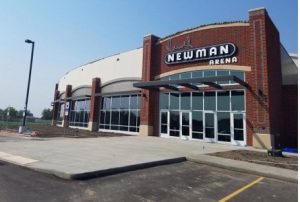 Jamestown  (UJ)  On Saturday, April 24, University of Jamestown hosted its 35th Annual Dine and Bid Benefit Auction, themed "Back to the Future." For the first time ever, the event was held both live and virtually. In total, the University raised a record-breaking $280,350.
University of Jamestown President, Dr. Polly Peterson says. "We want to express our deep gratitude for the support of our donors and those who attended the auction, both in person and virtually. As a private university, affordability remains critical to recruiting and retaining students.  We continue to be one of the most affordable colleges in the region because of the generous support of the community, our alumni and friends. Thank you again for making this year's Dine and Bid one of our biggest nights yet. Every dollar raised will go to supporting the scholarship needs of our students next fall."
Dine and Bid is an annual University of Jamestown auction, featuring a social, dinner, student entertainment, and both a silent and live auction. This year, in line with the theme, guests had the opportunity to take their picture with a DeLorean and were surprised with a special performance by student actors, dressed as Doc Brown and Marty McFly.
UJ, Vice President of Development, Alumni Relations and Marketing, Brett Moser says,  "Dine and Bid 2021 was a first for the University of Jamestown, hosting both a live, in-person event at the Harold Newman Arena and a virtual event for our alumni and friends. I am so proud of our team of volunteers and the work they put in to make this event happen for so many in Jamestown and around the country. We are very thankful to this community for supporting student scholarships here at UJ."
To view photos from Dine and Bid, please visit uj.edu/DB2021.
Previously
(UJ)  There's still time to bid! The Dine and Bid 2021 Auction is OPEN! The auction will run through 8 pm Sat April 24 .
If you can't be at the Harold Newman Arena this year, be sure to tune in to the live stream event on Sat April 24 at 7PM – there will be a link on the auction website or you can find a link at https://www.uj.edu/event/dine-and-bid.
Not local to Jamestown but still want to bid? No problem! Shipping is available for an additional fee.
Jamestown  (CSi)  The University of Jamestown's 35th annual Dine & Bid is on Saturday April 24, 2021.
This year the virtual event will be coupled with an in person availability, at UJ's Harold Newman Arena.
The theme for this year is "Back to the Future",  as the movie  celebrated its 35th anniversary, as does Dine & Bid.
The event provides scholarships for current and future students to attend UJ.
In 2020, due to COVID-19, the Dine & Bid moved to an all virtual format.
The cost to attend the virtual event is free, and $75 to attend the physical event, which will exclusively be holding the live auction.    The Social starts at 5-p.m., dinner at 6:30-p.m.
For more on UJ's Dine & Bid go on line go to uj.edu.