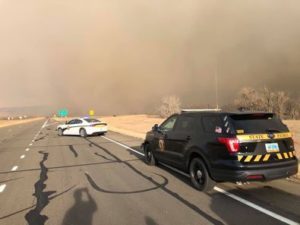 BISMARCK, N.D. (AP) — Residents of a small western North Dakota tourist town forced to evacuate as a large wildfire approached have been able to return to their homes. The city of Medora, with its population of about 100, was evacuated Thursday as firefighters worked to stop the blaze from spreading.
Fire crews  on Friday, continued to fight the large wildfire  in western North Dakota's Billings County.
Beth Hill with the State Forest Service says there is some good news:
Reduced was the estimated size of the fire from about 15 square miles to about 4 1/2 square miles. There were no reports of injuries or damaged structures in the community, which is on the doorstep of Theodore Roosevelt National Park. North Dakota has seen a growing number of wildfires with extreme drought conditions across the state.
Previously
Bismarck  (NDDOT) . – Interstate 94 is now open from Beach to Belfield. This section of I-94 was temporarily closed due to a grass fire near Medora.
< Highway Patrol Photo
The I-94 Business Loop through Medora is also now open to all traffic.
There were no immediate reports of injuries or damaged structures in the community
For more information on road conditions throughout North Dakota, call 511 or visit the ND Roads map at travel.dot.nd.gov
Previously…
The North Dakota National Guard deployed two UH-60 Black Hawk helicopters to help fight a Billings County wildfire that has prompted the evacuation of the city of Medora.
The U.S. Forest Service, in cooperation with the North Dakota Forest Service, requested the National Guard helicopters with water buckets