UPDATE
Saturday.
UJ Men's Volleyball
Conference Championship
UJ def Ottawa Univerity (Kans) 3-0.. 25-12,25-19,25-22
UJ advances to the NAIA national tournament, April 19-24 in Des Moines, Iowa.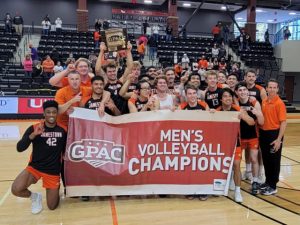 (Sioux City, Iowa) – Jamestown posted a 3-0 win over Ottawa on Saturday night in the Cypress Risk Management Great Plains Athletic Conference (GPAC) Men's Volleyball Tournament championship match. The game scores were 25-12, 25-19, 25-22.
The inaugural GPAC Men's Volleyball Tournament was played at the University of Jamestown at Harold Newman Arena.
The Jimmies receive an automatic berth to the NAIA Men's Volleyball National Championship in Des Moines, Iowa, on April 20-24 at the Iowa Events Center as the GPAC representative.