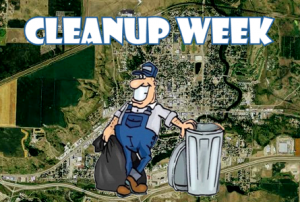 Valley City  (CSi)  Officials have set May 24- 28, as Valley City Cleanup Week.
City crews will collect separated household garbage along with waste.
Household garbage is such items as  mattresses and  box springs, couches, and chairs.  Please place those items together in one pile.
Inert waste such as processed wood, wood furniture, sheet rock, large rolls of carpet, concrete, bricks, and shingles are to be place in  separate piles, each.
Valley City Public Works Sanitation Director Gloria Swart says there is no limit on the number of bags, cans and boxes, however, those items should not exceed 50 pounds per bag, can or box.  Tires, batteries, and metal will not be picked up. Tires may be taken to the Valley City Transfer Station at a fee.
Batteries can be taken to the Transfer Station at no charge.  Scrap metal must be dropped off at Valley Recycling  across from the Transfer Station.
No tree branches will be picked up at this time.  Due to the amount of items during cleanup, tree branches will be picked up the week following cleanup week.   Please take grass and leaves to the grass site area. Those items will not be picked up during cleanup week.
Place items in your normal garbage pickup spot and do not place items until the weekend before cleanup week or on the pickup day.
If there are any questions, please call the transfer station at 845-0314 ahead of time.
During cleanup week, Valley City residents can bring items to the transfer station  free of charge.