Valley City  (CSi)  The Rally in the Valley Parade and Car Show will encore on CSi TV 10 at various times.  Times to be announced. The Valley City Chamber thanks everyone for the wonderful patronage and those who attended so many events during the annual community get together.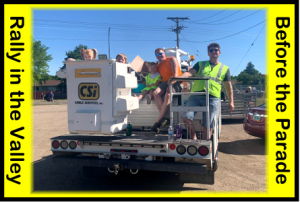 Duckin' Down the Sheyenen top eight winners are listed below.
The dollar amounts are shown for the winners that were awarded through Chamber Buck Certificates and can be picked up at the Rosebud Visitors Center.
1st Place #253 Jody Smedshammer $500
2nd Place #472 Jennifer Wolhart $200
3rd Place #303 Denise Orthman $100
4th Place #326 Kristin Bear $75
5th Place #120 Joyce Hintz $50
6th Place #489 Robyn Borg $30
7th Place #362 Kathy Holm $25
8th Place #65 Oakley Johnson $20
Previously
The Schedule Includes:
Breakfast at the Airport 7-a.m., to 9:30-a.m.
The 39th Bill Jansen Road Race/Walk, at 8am at Hi-Line Park
Food and Craft Vendors open at 9-a.m., at Veterans Park until 5-p..m.
The Annual Rally in the Valley Parade down Central Avenue starts at 10-a.m.
The Bridge City Cruisers Car Show on Central Avenue is from 11-a.m. to 4-p.m.
Pie at the VCBC Library 11-a.m. to 3-p.m.
Firefighters Honorary Dedication ceremony  at noon  at the entrance of the Fire Hall.
Dutton's Parlor with entertainment 2-p.m. to 4-p.m.
Duckin' Down the Sheyenne, Rubber Duck Race is at City Park, near the footbridge, at 3:30-p.m. with proceeds to the Sheyenne Valley Friends of Animals.
Street Dance at The Labor Club (Parkiing Lot) starts at 9-p.m.
Check for more events and activities as they are added, at the Chamber's website: valleycitychamber.com, or call 701-845-1891.
Other activities include:
June 18-20 the Valley City Saints Amateur Baseball Tournament.
 Schedule
Friday, June 18th
6:45 PM – Cass County vs. Valley City
8:45 PM – Dilworth vs. Mayville
Saturday, June 19th
10:00 AM – Fargo vs. Velva
Noon – Cass County vs. Fargo or Velva
2:00 PM – Jamestown vs. East Grand Forks
4:00 PM – Dilworth/Mayville loser vs. Jamestown/EGF loser
6:00 PM – Valley City vs. Fargo or Velva
8:00 PM – Dilworth/Mayville winner vs. Jamestown/EGF winner
Sunday, June 20th
10:00 AM – 7th Place Game
Noon – 5th Place Game
2:00 PM – 3rd Place Game
4:00 PM – Championship Game
 June 18-19 Citywide Garage Sales, and Valley City Class Reunions.
June 20, the Dakota Riders Hill Climb.  Registration begins Saturday, and ending Sunday.  Climb starts at 10-a.m. Sharp.  No glass containers, no pets no firearms, no attitudes.  Riders under 18 years old need parents notarized permission.  Free rides to and from vehicles on Hill Climb Grounds. More information at 701-840-0123.
Those and other events and activities listed at their website, ValleyCItyChamber. Com
Photos below for ValleyCityUSA.com  by Matt Sheppard.  More at Facebook.com/TheReplayChannel.
2019
2017 Rally photos
2016
2015
2014
2013