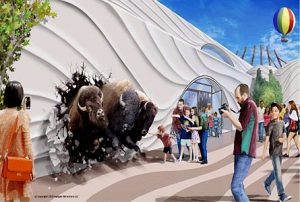 Jamestown (CSi)  Jamestown Mayor, Dwaine Heinrich says the Buffalo City Park project, is "Still Alive."
On Monday's Wayne Byers Show on CSi Cable 2, he said, a group of local representatives will make a presentation in the near future to the North Dakota Legacy Fund Investment Committee, with a continued pitch for $5-million in Legacy Fund infrastructure funding, termed as "seed money."
The $5 million would have to be matched, and the developer could then approach the state Investment Board for further money, through loans or grants.
$60 million in Legacy Fund Loan money has been on the table.
Near the end of the past legislative Session the North Dakota  Senate passed the budget bill for the state's Commerce Department without a proposed expenditure for a state-backed theme and amusement park, planned for Jamestown. (Buffalo City Park).
A legislative conference committee of three House members and three senators scrapped the seed money provision.
Grand Forks Republican Senator Ray Holmberg told the senate he's concerned about the precedent this sets, after the Legislature approved a bill setting up the Legacy Infrastructure Loan Fund, to invest in North Dakota.
Mayor Heinrich said planners of the Buffalo City Park have had the plans in place, in detail the past few months, likely ahead of other proposed project requests to receive funding from the Legacy Fund.
He added that the seed money may have been turned down in the legislature, due to some other project funding organizers being, jealous of the Jamestown organization and planning for the Buffalo City Park, and perhaps lagging behind on their requests.
Supporters of the facility envisioned bison-related attractions, a museum and kid-friendly activities. Backers believed it would provide and economic boost to a region with little else to offer. The proposal was quietly put into the state Commerce Department's budget in the waning weeks of the legislative session.
Buffalo City Park is proposed to be built on state owned land next to the National Buffalo Museum.