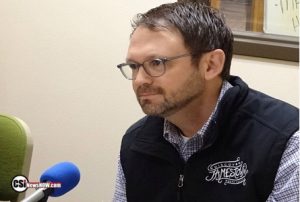 (CSi)  Jamestown Tourism Director, Searle Swedlund says plans and application information continues to be developed as local officials will file an application with the North Dakota Legacy Fund Investment Committee, as he says the Buffalo City Park project is still a "go," to obtain state funding.
On Tuesday's Wayne Byers Show on CSi Cable 2, Searle said the presentation with the Legacy Fund Investment Committee will be this fall.
He pointed out that traffic counts show that annually 8-million vehicles drive by the planned site on I-94 annually, and that 270,000 stop in Jamestown, and 50,000 to 70,000 vehicles stop at  the Frontier Village and the National Buffalo Museum, each year.
He said the $60-million dollar Buffalo City Park project, is estimated to gross $13-million dollars annually with annual expenses estimated at around $10-million, showing an annual profit in park operations.
Searle said the Buffalo City Park will be a unique experience, as nothing like it is currently in operation in North Dakota.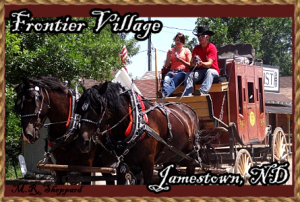 On another topic the public is invited to participate in the Frontier Village cleanup day on Friday May 7.
The day is set for May 7, from 9-a.m. to 3-p.m.  With lunch available provided by Casey's General Store.
All materials ready with most of the work cleaning, with such things as washing windows, sweeping debris and cobwebs, wiping cases clean, and picking up litter and trash outdoors.
Other minor maintenance and landscaping items are also on the list.
Volunteers are asked to bring along work clothes and closed toed shoes for the day.
If you're interested in volunteering, and the time frame you are available contact Allison Limke at 701-251-9145 or email Allison@DiscoverJamestownND.com.