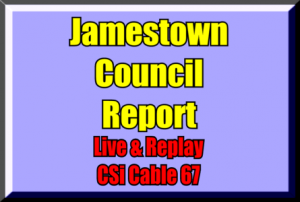 Jamestown (CSi)  the Jamestown City Council met in Special Session Tuesday afternoon at City Hall.
All members were present.
The City Council  considered approving the JSDC request to fund $2,514,000 for the Company X  (which is ADM)  Soybean Processing Plant, at Spiritwood, incentive package, with the City Share to be $2,011,200, 80 percent of the total with the 20 percent Stutsman County's share.   The City Council unanimously approved the request. Mayor Heinrich said, local entities deserve credit in attracting ADM to this area, and JSDC working with the company over the past two years.
Click to see more details in previous CSiNewsNow.com story from JSDC.
ORDINANCES:
The Council approved, A SECOND READING: Of an Ordinance to amend and re-enact Section 5, Article II of the City Code pertaining to the sale and possession of alcohol on a public right-of-way directly adjacent to the location of an on-sale license holder within the city limits of Jamestown.
The City Council approved A SECOND READING: Of an Ordinance to create Article VII of Chapter 25 of the Code of the City of Jamestown, North Dakota, concerning outdoor seating in the City of Jamestown.
OTHER BUSINESS:
Approved was the purchase of surveillance cameras for downtown City parking lots in the amount of $13,952.00. Mayor Heinrich said the dollars come from a grant, with the deadline approaching.
Police Lt Sid Mann said, the grant was secured by Central Valley Health District, and the fixed cameras covers the area near the railroad tracks, and over to the middle school parking lot, and Center for Economic Development. The Grant covers the cost of the camera, and installation.  A monthly fee will also be charged.  He said the cameras will aid in observing incidents that may occur in the event charges are filed against individual(s) in the act of a crime.
The City Council approved the Permit Application for Outdoor Seating Area on City or State Right-of-Way and Cover Instructions.  Mayor Heinrich said the permit application agenda item, was not put out three hours in advance for notification purposes.  There were no objections to proceeding.
The meeting was shown live on CSi Cable 67, followed by replays.