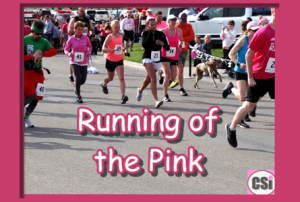 Jamestown  (CSi)  The 14th Annual Running of the Pink 5K Walk/Run – 10K Run will be a hybrid event, meaning it's available both LIVE and VIRTUALLY.
Tara Kapp from R.M. Stoudt said, to-date, this event has raised over $163,000 for the No Excuses Program through Jamestown Regional Medical Center and Women's Way through Central Valley Health.
She said 100% of the proceeds stay local and go to those 2 organizations to make certain there are ZERO BARRIERS between those who need Breast and Cervical cancer screenings and the screenings themselves.
The live event is scheduled for Saturday, June 5th, 9:00am at RM Stoudt.  ALL ages and fitness levels are encouraged to participate.
2019 Photos at Facebook
CSi Photos 2019
The virtual event can be completed anytime between now and June 5th.  Meaning – anyone who signs up for the virtual event can walk or run their 5K or 10K at their leisure.  They can do it on their treadmill at home, on a route of their choosing or on the actual Running of the Pink route which can be found on the running app MapMyRun.  Anyone who participates virtually is asked to post their involvement on Facebook, Instagram or Twitter and add the #VirtualROP OR email a photo or story of their participation to rmstoudt@csicable.net so we can celebrate with them.
Those who choose the Live event are asked to pre-register so that we can reduce the amount of congestion at the registration tables the day of the event.  Masks are asked to be worn before and after the race when you're in closer contact with others outside of your family/friend pods.
ANYONE who would like to register can do so by picking up a form at the dealership or going to www.stoudtcars.com where forms can be printed OR you can register online for both the live and virtual options.
If anyone has questions they can call 701-252-2270, 800-279-2886, email rmstoudt@csicable.net or message on Google, Facebook, Instagram or Twitter.