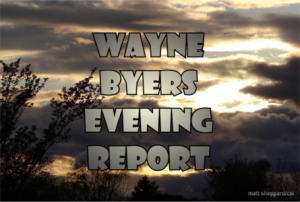 CSi Weather…
.TONIGHT…Mostly clear. Lows in the mid 40s. Northeast winds5 to 10 mph
.SATURDAY…Sunny. Highs in the mid 70s. Northeast winds 5 to 10 mph.
.SATURDAY NIGHT…Mostly clear. Lows in the upper 40s. South winds 5 to 10 mph.
.SUNDAY…Sunny with a 20 percent chance of rain showers. Highs
in the upper 70s. Southwest winds 5 to 15 mph.
.SUNDAY NIGHT…Mostly clear. Lows in the lower 50s.
.MONDAY…Sunny. Highs around 80.
.MONDAY NIGHT…Clear. Lows in the lower 50s.
.TUESDAY…Sunny. Highs in the lower 80s.
.TUESDAY NIGHT…Partly cloudy. Lows in the mid 50s.
.WEDNESDAY…Mostly sunny. Chance of rain showers and slight
chance of thunderstorms in the afternoon. Highs in the upper 70s.
Chance of precipitation 30 percent.
.WEDNESDAY NIGHT…Decreasing clouds. A 30 percent chance of rain
showers. Lows in the mid 50s.
.THURSDAY…Partly sunny. Chance of rain showers in the morning,
then chance of rain showers and slight chance of thunderstorms in
the afternoon. Highs in the mid 70s. Chance of precipitation.
COVID-19 Stats
11:00 a.m.
Fri. May 14,  2021
Barnes
New Positives:  0
Total Positives: 1413
Active: 4
Recovered:  1378
Stutsman:
New Positives: 1
Total Positives: 3513
Active: 10
Recovered: 3422
ND Cases Reported Friday
NEW CASES: 96
TOTAL ACTIVE CASES: 794
TOTAL CASES: 108,973
TOTAL RECOVERED: 106,675
DAILY TEST POSITIVITY RATE: 3.63%
Rolling 14-day positivity rate at 4.02%
Hospitalizations as of Friday
ACTIVE HOSPITALIZATIONS: 34
DEATHS
NEWLY REPORTED: 1
TOTAL DEATHS: 1,504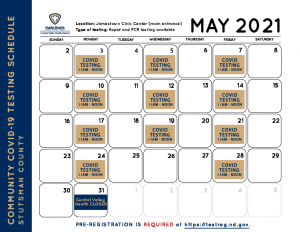 Jamestown (CVHD)  Central Valley Health District this week will have COVID-19 Testing at the Jamestown Civic Center in May Monday, Wednesday, and Friday's from 11-a.m. to 12 noon,  at the Jamestown Civic Center, with the exception of Memorial Day, May 31, using the Rapid Testing, BinaxNow.
By screening with rapid antigen tests, event attendees will be able to receive their test results within 15 minutes via text notification. The test also is less invasive than a PCR (Polymerase chain reaction) test in that it uses a nasal swab to collect a sample from the lower part of the nostril.
If a person tests positive, they should isolate at home immediately and a case investigator will be in touch with them within 24 hours. If the screening yields a negative result, individuals should continue to monitor for symptoms.
Interested individuals should fill out an online survey at testreg.nd.gov for faster registration.
For more information about rapid antigen tests and North Dakota's screening strategies, visit https://www.health.nd.gov/rapid-antigen-screening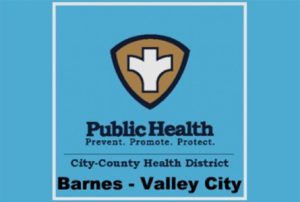 Valley City (CCHD)  City/County Health reports, that testing continues to be important. If you have any symptoms, it is important to be tested. If you have symptoms and need to be tested at other times contact your clinic.
Administrator Theresa Will says Testing is now on Monday, Wednesday and Friday, at the CCHD location.
415 2nd Ave NE
She says the testing is drive through at the area adjacent to the west door, with assistance by the National Guard.
The times are  12:30- 1:30p.m.  Quick testing will be available.
Pre-register for all clinics.
She adds that CCHD will be receiving Pfizer Vaccine to administer to 12-15 year olds.
Tentative plans are to give the shots at Valley City Public Schools to that age group, on May 21.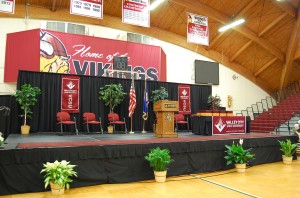 Valley City State University will hold a spring commencement ceremony on Saturday May 15, to honor its graduating class during the 2021 spring semester. VCSU will recognize 318 graduates – 278 will receive bachelor's degrees and 36 will receive master's degrees.
All graduates recognized at the Virtual Commencement Ceremonies in May 2020 and December 2020 have been invited back to participate in the face-to-face ceremony. Face coverings will be required for all attendees.
The in-person ceremony will also be livestreamed on VCSU's Youtube channel: www.youtube.com/vcsuvikings
Well wishes may be sent to the Class of 2021 on VCSU's Kudoboard at https://vcsu.kudoboard.com/boards/kcnn9HJO/classof2021. Find or share commencement related content on social media by using #2021Vikings.
BISMARCK, N.D. (AP) — The North Dakota Supreme Court has ordered a new civil trial for a driver who caused a Bismarck expressway crash that killed two women, injured a third and produced a jury award of more than $1 billion in damages. The 2015 crash killed 21-year-old Taylor Goven, and 22-year-old Abby Renschler, and caused a traumatic brain injury to 21-year-old Shayna Monson. Twenty-eight-year-old Jordan Morsette, who had a blood alcohol content more than three times the legal limit, was sentenced to 25 years in prison after pleading guilty to criminal charges. A civil court jury in November 2019 awarded damages to Monson and the families of Renschler and Goven. Morsette argued the damage award was excessive.
FARGO, N.D. (AP) — Fargo police have identified the suspect accused of stabbing of three people as a 30-year old woman with no permanent address. She was arrested after a 4-hour standoff with police while she was barricaded inside a vehicle belonging to one of the victims. She voluntarily gave up and was arrested. Police say the woman stabbed a man she knew at a Fargo residence Thursday and then went to the Mexican Village restaurant where she got into an SUV in the parking lot and stabbed two women. The three victims were treated for their injuries and released.
In world and national news…
WASHINGTON (AP) — A Florida politician who is a central figure in the federal sex trafficking investigation into Rep. Matt Gaetz has agreed to cooperate with federal investigators. In a plea agreement filed Friday in court in Orlando, Florida, Joel Greenberg admits he paid an underage girl to have sex with him and other unidentified men. Greenberg is expected to plead guilty to six federal charges during a court appearance on Monday. His cooperation as a close associate of the Florida congressman signals a significant escalation in the Justice Department's investigation into whether Gaetz and Greenberg paid underage girls or offered them gifts in exchange for sex. The plea agreement doesn't mention Gaetz, who has denied wrongdoing.
(AP) A number of states immediately embraced new guidelines from the CDC that say fully vaccinated people no longer need to wear masks indoors or out in most situations. But other states — and some businesses — are taking a wait-and-see attitude amid questions of whether the new policy is safe or even workable, given that it essentially leaves it up to people to do the right thing. Business groups and others warned that employees at stores and other businesses could be left exposed to the virus from customers and could be forced into the unwanted role of "vaccination police."
JERUSALEM (AP) — The Israeli military says it has identified three rockets fired from Syria toward Israeli territory. The military said in a statement that one of the rockets landed inside Syria on Friday evening. There was no immediate comment from Damascus. The incident comes amid a violent escalation between Israel and Gaza's militant Hamas rulers this week that has been compounded by an eruption of ethnic clashes inside Israel as well and violence in the occupied West Bank. Israel appears to be looking to inflict intensified damage on the Islamic militant group Hamas, which controls Gaza and has fired hundreds of rockets into Israel.
WASHINGTON (AP) — The Biden administration will send millions of dollars in U.S. assistance to the Palestinians to promote conflict resolution with Israel. As violence surges between Israel and the Palestinians amid U.S. calls for restraint, the administration notified Congress this week that it will provide $10 million to Palestinian groups in the West Bank and Gaza to support exchange programs and reconciliation projects with Israel. The State Department says the money is part of more than $100 million allocated to the Palestinians earlier this year that reversed a near total cutoff in support under former President Donald Trump.
WASHINGTON (AP) — A new national terrorism alert is warning that violent extremists may take advantage of the easing of pandemic restrictions to conduct attacks. The alert does not cite any specific threats. But it warns of potential danger from an "increasingly complex and volatile" mix that includes domestic terrorists inspired by various grievances, racial or ethnic hatred and influences from abroad. It said those threats were exacerbated by the COVID-19 pandemic and that the reopening of the economy could create new potential dangers. The alert was issued Friday by the Department of Homeland Security.
DETROIT (AP) — A new prosecutor in suburban Detroit is raising questions about the murder conviction of a man who was accused of setting a fire that killed five children in 2000. Karen McDonald says she's "gravely concerned" about tactics used by the Oakland County prosecutor's office. McDonald said Friday that Juwan Deering's attorney wasn't told that three informants got substantial benefits from helping authorities at the 2006 trial. The Innocence Clinic at University of Michigan law school has been seeking a new trial for Deering, arguing that the fire analysis was based on "junk science." McDonald says problems with the informants emerged during her review of the case.
COLUMBIA, S.C. (AP) — In newly released video of the January death of a South Carolina inmate with a history of mental health issues, deputies are seen deploying stun guns repeatedly, kneeling on the man's neck and back, before he stops moving. Officials say that minutes later, the man was pronounced dead. Charleston County authorities on Thursday released dozens of video clips related to the death of Jamal Sutherland. The 31-year-old Black man was booked into the jail on Jan. 4 on charges of third-degree assault and battery. Deputies trying to take him to a court appearance are shown using pepper spray and stun guns on Sutherland. The man eventually goes limp, and officials are shown attempting CPR. Sutherland's family has pleaded for calm following the video release