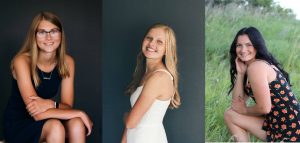 (Chamber)  The Chamber, UJ and JRMC partnered to provide scholarships to incoming UJ students.   They were able to provide three $1,000 scholarships this year.  One is a general scholarship and the other two are for students interested in a medical profession. Every year, the Chamber Ambassador Committee raises money for the scholarship fund.
The 2021 scholarship recipients are Kyra Vogel of Jamestown, Kylie Herman of Jamestown and Brittney Reister of Medina. These outstanding students will be attending UJ in the fall. Vogel is interested in becoming an Optometrist, Herman is interested in Nursing and Reister plans to pursue a career in Criminal Justice.
Congratulations to these students and best of luck in your future careers.
For more information on these scholarships or to donate to the scholarship fund, contact Emily Bivens by emailing: director@jamestownchamber.com or call the chamber at 701-252-4830.
Chamber Provided Photo Above: Left to Right: Kyra Vogel, Kylie Herman, Brittney Reister