CSi Weather…
THURSDAY NIGHT…Mostly cloudy. Chance of showers and thunderstorms in the evening, then showers with thunderstorms likely after midnight. Some thunderstorms may be severe with damaging wind.  Locally heavy  rainfall possible after midnight. Lows in the lower 60s. Southeast winds around 15 mph with gusts to around 30 mph. Chance of precipitation 90 percent.
.FRIDAY…Partly sunny with chance of showers and slight chance
of thunderstorms in the morning, then sunny in the afternoon.
Windy. Highs in the mid 70s. West winds 20 to 30 mph. Chance of
precipitation 40 percent, in the Jamestown area, 70 percent in the Valley City area.
.FRIDAY NIGHT…Clear. Lows in the lower 50s. West winds 10 to
15 mph. Gusts up to 30 mph in the evening.
.SATURDAY…Sunny. Highs in the mid 80s. West winds 10 to 15 mph.
.SATURDAY NIGHT…Clear. Lows in the upper 50s.
.SUNDAY…Sunny. Highs in the upper 80s.
.SUNDAY NIGHT…Mostly clear. Lows in the upper 50s.
.MONDAY…Sunny. Highs in the upper 80s.
.MONDAY NIGHT…Mostly clear. Lows in the upper 50s.
.TUESDAY…Sunny. Highs in the upper 80s.
.TUESDAY NIGHT…Mostly clear. Lows in the lower 60s.
.WEDNESDAY…Sunny. Highs in the mid 90s.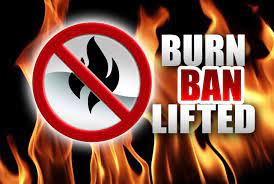 Valley City  (CSi)  The Barnes County Commission on Jun 10, lifted the temporary Burn ban that was implemented on Jun 3.
Rural residents in Barnes County conducting controlled burns are asked to call Barnes County Dispatch at (701) 845-8181 to inform them of the location where the controlled burn will be taking place.
Residents are asked to monitor their controlled burns, and fire pit usage and have adequate materials needed to extinguish a fire in the event the need arises.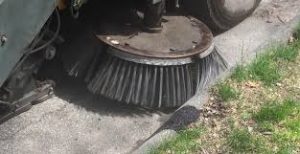 (CSi)  The evening of June 10, 2021, Jamestown City crews will be out street sweeping in the downtown business district. This will take place at 12:00 AM and last approximately until 8:00 AM or until finished.
Please move vehicles off the streets during these times until sweeping is done in these areas.
The above schedule is contingent upon changing weather conditions.
Motorists should use extreme caution in this area.
NDDoH
COVID-19 Stats  11:00 a.m
Thurs. Jun. 10, 2021
Barnes
New Positives  1
Total Positives 1423
Active: 5
Recovered: 1386
Stutsman
New Positives 0
Total Positives 3543
Active 3
Recovered  3458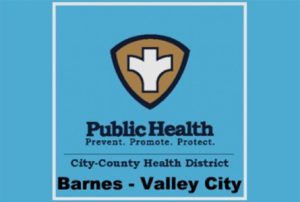 Valley City  (CCHD)  City County Health in Valley City COVID-19 Testing Clinic schedule.
Administrator, Theresa Will says, the testing clinics are on Mondays and Fridays from 12:30-p.m. to 1:30-p.m. with the drive through clinic, located at the west side of the building., at 415 2nd Ave NE.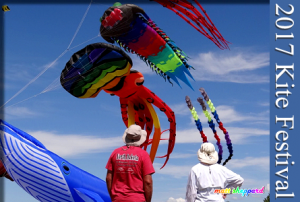 Jamestown  (CSi)  Jamestown Kite Fest Kite Fest is this weekend, Friday, June 11 through Sunday, June 13 at Meidinger Park Field in Jamestown, free and open to the public.
The event is created and organized  by the Wings on Strings Jamestown Kite Club.
An indoor kite fly will be held  at  Two Rivers Activity Center Friday at 10-a.m.
Also on hand  at Kite Fest will be internationally known kite builders and flyers. Along with kite building sponsored by the Jamestown Parks & Rec Department.
Like the Jamestown Kite Club on Facebook for more information.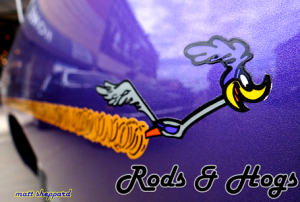 Jamestown  (CSi)   Rods, Hogs, and Things That Go VROOM car show  returns this year, after a year's absence due to the pandemic.  This year the activities are set for Saturday Jun 12 from 1-p.m. to 11:30-p.m., in Downtown Jamestown.  Partial funding provided by Jamestown Tourism.
Jamestown Downtown Association President, Lynn Lambrecht says,  two blocks on First Avenue South will be closed to traffic, adding that construction on the Road Diet should not interfere with the activities.  With that, she says, residents and visitors are invited walk the finished bumpouts and sidewalks and view the Walk of Fame project.
Judged categories will include classic car, best bike, best truck, and best ratrod with a $200 1st place prize. Lambrecht says for those who don't want to register, they're welcome to just show and shine, but they will not be eligible for the prizes or to be judged.
Other activities downtown this summer include, the 4th of July Kiddie Bike Parade, the Buffalo Days Parade on July 24 through downtown, and the University of Jamestown Block Party.  On line, jamestowndowntown.org, and Like them on Facebook.
Partial funding provided by Jamestown Tourism.
Jamestown  (JRMC) – Without local cancer care, one Jamestown woman says she may have given up.
Last year tested the faith of Alice Wanzek. Between the novel coronavirus (COVID-19) and her cancer, Wanzek has been challenged in many ways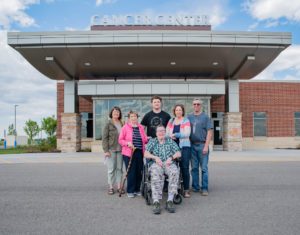 The 83-year-old's husband Richard passed away in April 2020. Because of COVID-19, the family buried him in May, six weeks later. In August 2020, Wanzek's son Mike, experienced a significant traumatic brain injury and could not breathe on his own. In November, she traveled to California to care for her other son, Dean, battling cancer. And in December, doctors diagnosed Wanzek with cancer of her own, in the left breast.
Doctors surgically removed the lump that month. Since then, Wanzek has received chemotherapy at Jamestown Regional Medical Center. She completed her treatments on June 1.
Her daughter, Kristi Oscarson, says, "We were so happy it was in Jamestown."
Wanzek says she feels fatigued after chemotherapy, as well as her challenging year. With all that she has going on with her family, she may have refused treatment had she needed to travel.
Daughter, Lisa Reich adds, "I don't know how we would have done it."
Kristi adds, that Alice and Richard raised their seven children on a farm west of Jamestown. Farm living made her a "fighter," However, Wanzek credits support from her children, neighbors and friends, saying,  "I've had a lot of people offer to help me."
Among her helpers are the members of the JRMC Cancer Center team. Registered Nurses K.C. Robison and Garrett Hillius could always be counted on for a silly joke or comment to lighten the mood.
She says ,smiling, "They have a sense of humor. But I don't want to see them again."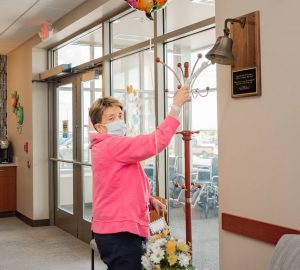 Wanzek's journey continues, with radiation scheduled this month, adding, "I'm relieved the chemotherapy is over."
JRMC opened the JRMC Cancer Center in June 2019 in partnership with Sanford Health. Wanzek is the twelfth patient to ring the graduation bell. Each month, the JRMC Cancer Center provides more than 100 chemotherapy infusions, saving nearly 250,000 miles of travel each year.
"Miles matter," said Laura Bond, oncology nurse practitioner, says, "Mile Matter.  Healing is better close to home."
Bond said a person's quality of life improves too, saying the cancer center means people spend more time with family or even work and less time on the road.
"The burden of travel causes significant anxiety. Who will drive me? How can I afford mileage?" she said. "One of the reasons JRMC is a destination for care in the region is because it offers award-winning care right here at home."
In 2021, The National Rural Health Association named JRMC a Top 20 Critical Access Hospital. JRMC also received Modern Healthcare's Best Place to Work award each year from 2017-2020.
For Wanzek, she is ready to move to the next chapter.
"The worst is over. "I have hope."
To learn more about the JRMC Cancer Center or to schedule care, visit www.jrmcnd.com/cancer. To learn how we are keeping patients safe, visit www.jrmcnd.com/covid.
BISMARCK, N.D. (AP) — North Dakota's rural lawmakers worry that when new political maps are drawn this year their political influence will shrink due to population growth in and around a handful of the state's larger cities. Legislative redistricting occurs every 10 years after a federal census. It aims to ensure each lawmaker represents about the same number of people. Some lawmakers expect some partisan political bickering during the process. But they say the biggest task will be striking a balance between urban and rural interests. Republican Sen. Jerry Klein of Fessenden says rural priorities increasingly don't mirror those in bigger cities.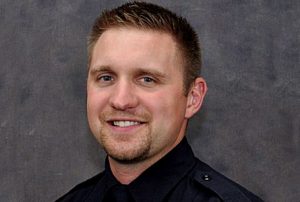 Jamestown  (CSi)  On Sunday, June 13th  at 2-p.m., at the Jamestown Civic Center law enforcement  agencies including the Jamestown Police Department, Grand Forks Police, Fargo Police, Stutsman County Sheriff's Office, different army units, and more, will gather, and travel in a procession to pay tribute to Grand Forks Officer Cody Holte, with the dedication to a Memorial.
The 29 year old Holte lost his life in the line of duty on May 27, 2020 in a shootout, that also claimed the life of a woman, and injured another law enforcement officer and wounded  the suspect.
The event is planned for June 13th will honor the former officer and 1st Lt. with the National Guard.
Ryan Lindberg served with Lt. Holte for five years with the National Guard 817 Engineering Company in Jamestown.
He says, the event will leave the Civic Center, around 2-p.m. going 25 miles north on Highway 281, where the procession will pay their respects, to Lt. Holte, adding The public is invited to send off the procession from the Jamestown Civic Center.
Holte had been with the police department for three years. He is survived by a wife and infant son. He also served concurrently in the Army Reserve and Army National Guard for about a decade.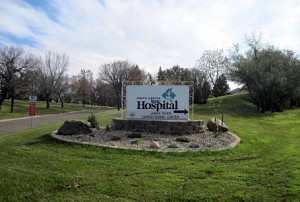 Bismarck  (CSi)  – The North Dakota State Hospital's governing body will meet Monday, June 14 at 9 a.m. CT, in the administration conference room in the hospital's LRC Administration Building, 2605 Circle Dr., in Jamestown. Cloth face masks are required, and social distancing and other health and safety practices will be followed. Interested individuals can also join by Microsoft Teams or by conference call at 701-328-0950, conference ID: 799 094 330#.
The agenda includes reports from hospital administration, the medical director and the North Dakota Department of Human Services. There will also be updates on quality management, finances and employee wellness committee activities. Other business may be discussed.
The agenda for the public meeting includes time for comments from the public and hospital team members at the end of the meeting.
A complete agenda is online at www.nd.gov/dhs/info/publicnotice/index.html.
Individuals with disabilities who need accommodations, including auxiliary aids, to participate in the meeting can contact Kristie Cagle at 701-253-3964, 711 (TTY) or kjcagle@nd.gov.
Information about the North Dakota State Hospital is available online at www.nd.gov/dhs/locations/statehospital/.
In world and national news…
CARBIS BAY, England (AP) — President Joe Biden says the United States is buying and donating hundreds of millions of doses of Pfizer's COVID-19 vaccine to help save lives. He says it's not being done to get favors or potential concessions from the nearly 100 low-income countries that will be receiving the shots. He's also calling on other countries to follow the American lead, saying "it is in all of our interests to see the global economy recover." Biden is outlining the U.S. global vaccine-sharing plans while he's in St. Ives, England. Earlier Thursday he met with British Prime Minister Boris Johnson.
WASHINGTON (AP) — Johnson & Johnson says U.S. health officials have extended the expiration date for its COVID-19 vaccine by six weeks. The drugmaker said Thursday that the Food and Drug Administration approved a shelf life of 4 1/2 months for the one-dose shots. State officials recently warned that millions of doses would reach their original three-month expiration by the end of June. The extension comes as the number of U.S. vaccinations continues to slip. Vaccine expiration dates are based on information from drugmakers on how long the shots stay at the right strength. Regulators are reviewing those dates as companies have continued to test batches.
ALBUQUERQUE, N.M. (AP) — A key reservoir on the Colorado River is shrinking to record low levels, prompting concerns throughout the drought-stricken U.S. West about future water supply. The dropping surface elevation of Lake Mead along the Arizona-Nevada state line dipped to a historic low on Wednesday, surpassing 2016. The U.S. Bureau of Reclamation says the lake level is projected to continue falling until November, affecting recreation and hydropower efficiency. Already, water users in Arizona and Nevada are prepared to get less water in 2022 from the Colorado River. Millions of people in the U.S. West rely on the river that has been declining amid a prolonged drought and climate change.
WASHINGTON (AP) — FBI Director Christopher Wray says the bureau discourages ransomware payments to hacking groups even as major companies in the past month have participated in multimillion-dollar transactions aimed at getting their systems back online. Wray tells the House Judiciary Committee that there are a number of reasons why FBI policy frowns on such payments. For one, it may encourage additional cyberattacks. And it may not result in victims getting their information back. Both Colonial Pipeline and meat processing company JBS SA have revealed that they paid multimillion-dollar ransoms. In ransomware attacks, hackers lock up and encrypt a victim's data and demand a payment in order to return it. They have proliferated in scale over the past year.
RALEIGH, N.C. (AP) — North Carolina's Senate approved a measure on Thursday to prohibit doctors from performing abortions if a woman is seeking it because of race, sex or a prenatal diagnosis of Down syndrome. Democratic Gov. Roy Cooper is not expected to approve the bill. Republican lawmakers and anti-abortion advocates say the proposal ensures equality by protecting fetuses that could have disabilities when they are born. Abortion rights groups say it would interfere with a woman's privacy, preventing them from having open conversations with their doctors and violating their constitutional rights.
PHOENIX (AP) — Arizona has refurbished its gas chamber at a prison where the last lethal-gas execution in the United States was carried out in 1999. The refurbishment late last year was made as Arizona tries to resume executions after a nearly seven-year hiatus. It purchased materials to make hydrogen cyanide, the gas used in executions in the U.S. and by the Nazis to kill 865,000 Jews at the Auschwitz concentration camp alone. The horrific nature of gas-chamber deaths and the advent of lethal-injection executions turned the United States against lethal gas.
CHARLESTON, W.Va. (AP) — Opioid distribution companies and federal regulators pointed the finger at each other as a contributing factor in the nation's opioid epidemic during a landmark civil trial in West Virginia. The Herald-Dispatch reports that a former Drug Enforcement Administration official and the distributors each argued Wednesday that the other side disregarded requests to comply with regulations and policies. They said doing so could have led to stopping the flow of pills into local communities. The lawsuit brought by Cabell County and the city of Huntington accuses AmerisourceBergen, Cardinal Health Inc. and McKesson Corp. of fueling the epidemic. The trial is being heard in Charleston.
UNITED NATIONS (AP) — A high-level committee that focuses on rapid responses to humanitarian crises estimates that some 350,000 people in Ethiopia's embattled Tigray region are in famine conditions. The estimate was presented at a meeting on Monday of the Inter-Agency Standing Committee, comprising 18 U.N. and non-U.N. organizations that is chaired by U.N. humanitarian chief Mark Lowcock. According to a U.N. official, a note from the meeting said millions of other people in Tigray urgently need food to avoid famine. Ethiopia's government has been at war with Tigray's leaders since November, and Eritrea, a longtime Tigray enemy, teamed up with Ethiopia in the conflict. The U.N. estimates that since the war began, an estimated 2 million people had been displaced amid reports of killings and rape.