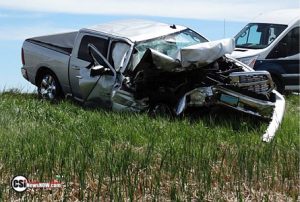 Pingree  (CSi) On Tuesday morning, Jun 15,  at 11:57 am a crash between a semi and a pickup occurred on 281 North and 20th street Southeast., between Buchanan and Pingree.  The Jamestown Rescue Squad and Jamestown Rural Fire departments were called due to a person trapped in the pickup.
Jamestown City Fire Department Lt. Sheldon Mohr says, the male occupant of the pickup was extricated from the vehicle. Five Rescue personnel were on the scene about 15 minutes, with 19 firefighters were on standby at the city fire hall.   The Rural Fire Department supplied fire support.  There was no fire at the scene.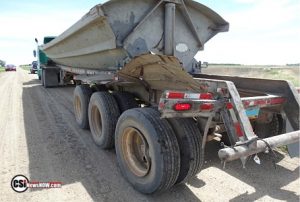 Also on the scene investigating were the North Dakota Highway Patrol, and the Stutsman County Sheriff's Office, and Jamestown Area Ambulance Service.
More information when the accident report is filed, on The Wayne Byers Show on CSi Cable 2, and here at CSiNewsNow.com for the latest update on this story.
CSi Photos