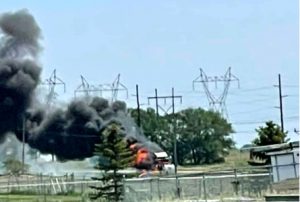 Jamestown  (CSi)  The Jamestown Rural Fire Department was call about 12:44-p.m. Thursday to where a Jamestown Recycle truck caught fire, along the Country Club Road, east of Infinity Builders.
Rural Fire Chief Brian Paulson says, the truck was moving down the roadway, when the fire started behind the cab.  He says, the entire truck was fully involved in flames when the Rural Fire Units arrived on the scene, and was extensively damaged.
He says the fire spread to a 20×30 foot area of grass, and caused minor damage to the pavement.
The road was shutdown for a period of time until the truck was towed away, and heat and fire damage was assessed to the roadway.
The Rural Fire Department was called back about 2:50-p.m., when smoke was reported coming again from the vehicle.
The official cause of the fire behind the cab was not immediately determined.
Seven Rural Fire Units and 17 firefighters were on the scene about an hour and 40 minutes.