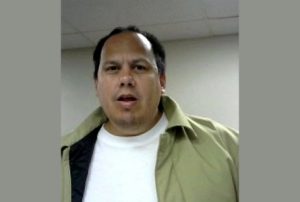 Valley City  (KFGO) – Acting on a tip, from the public, Fargo police has arrested a "High Risk" sex offender who was being sought by authorities for skipping his probation requirements in Valley City.
42-year old Leslie Allery had cut his ankle monitor off and was on the run and a warrant was issued for his arrest.
North Dakota Parole and Probation Services notified Valley City police last week that Allery could not be located.
Employees at a downtown Fargo business identified Allery Monday night from photos that were distributed throughout the area. Police were called and took Allery into custody. He's being held in the Cass County Jail.
Allery was convicted of solicitation of a minor and promoting obscenity to a minor in Burleigh County two years ago and is required to register as a sex offender for the rest of his life.
Previously
Valley City (VCPD)  The Valley City Police Department is notifying the public of a High Risk Sex Offender that has absconded from ND. Parole and Probation.
On June 18, 2021 VCPD was notified by ND Parole and Probation that Leslie Raymond Allery had tampered with his ankle monitor and they needed verification if he was still in the jurisdiction.  Valley City Police was unable to find Allery or his ankle monitor.
A warrant has bee issued on Allery.
Allery is a 42 year old, white male, six feet one inch tall, weighing 255 pounds.
Allery was convicted in Burleigh County, ND in September of 2020 of Solicitation of a Minor and Promoting Obscenity  to a minor.  Allery has been assessed as a High Risk Sex Offender, and is a lifetime registerant.
Anyone with information about Leslie Raymond Allery is asked to contact your local law enforcement, of Valley City Police at 701-845-3110.