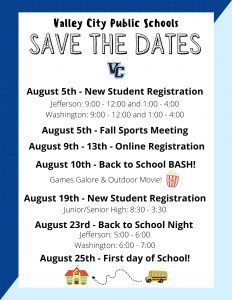 Valley City  (VCPS)  The Valley City Public School District will unofficially kickoff the 2021-2022 school year with a "Back-to-School Bash," at Hanna Field on Tuesday, August 10.
Superintendent Josh Johnson says the event is to bring together the Hi-Liner community for a celebration of the upcoming school year. As you know, last year we were unable to host many of these events and we thought this would be a great way to re-connect our students, parents, and school district ahead of the '21-22 school year.
Johnson encourages everyone to join them us on August 10th for some food, fun, games, and movies up at Hanna Field. Admittance will include a free will donation and the Valley City Boosters Club will be selling concessions. If you have any questions, feel free to call the district office or email either Brenna.Schroeder@k12.nd.us or Josh.johnson@k12.nd.us.
Information regarding school supplies, student registration, fall meetings, and back to school nights will be forthcoming. We hope to see you on Tuesday, August 10th at Hanna Field!!!