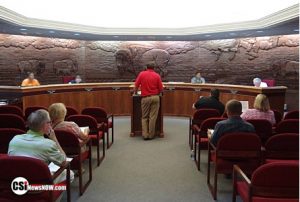 Jamestown  (CSi)  The Jamestown City Council's  Finance & Legal, Building, Planning & Zoning Committee, and Civic Center 7 Promotion Committee met Tuesday evening at City Hall.  All members were present.
FINANCE & LEGAL COMMITTEE:
Considered the request from Midcontinent Communications for a proposed non-exclusive franchise in the city for the right to construct, maintain and operate within and upon, in and under the streets, alleys and public grounds of the city, a telecommunication system for public and private use in the city.   Midco Senior Director of  Government Affairs  Justin Forte explained the company's plans to serve Jamestown.  He plans to have an operations center located in Jamestown. At start up about six employees will be hired in Jamestown.
He said it's a $15 million infrastructure  investment in Jamestown with construction to start in Jamestown in the spring of 2022.
The committee recommends having the City Attorney work with Midco officials at the outset of the plans and explore establishing a specific franchise agreement.
The committee recommends the City Council approve 2022 preliminary budget.
Approval of the Preliminary Budget is at the August 2 City Council meeting.
The preliminary budget can be adjusted downward but not increase.
In October the final budget will be approved.
Considered the amendment to the City of Jamestown Procurement Policy, approved by a City Council resolution on September 7, 2010.  Mayor Heinrich said he has transparency concerns in having the City Council involved in the process.  He suggested ways to keep the Council engaged, and also a cost savings to the city concerning paperwork and advertising bids.  Travis Dillman pointed out that the policy will expedite the  process, of procurement. Assistant City Attorney, Abby Gerioux pointed out that a city Ordinance will need to be amended, concerning the sealed bidding process.
The committee recommends, the City Attorney work on amending the City Ordinance. With a First Reading at the August meeting.
At the conclusion of the meeting, Mayor Heinrich highly suggests residents be vaccination for the COVID-19 virus, noting a recent large jump in the Stutsman County positive cases, and the number of current active case, going from zero actives  recently to the latest number of 14.
BUILDING, PLANNING & ZONING COMMITTEE
INFORMATIONAL: The appointment of a member to serve on the Planning Commission for a five year term to August 2026, is scheduled on the August 2, 2021, city council agenda.
CIVIC CENTER AND PROMOTION COMMITTEE
The committee recommends the request for authorization for Jamestown Tourism to apply to BNSF on behalf of the City of Jamestown for the Frontier Village Train Parkette project.  If approved by the City Council, Jamestown Tourism will apply for the grant on behalf of the city.
The meeting was shown live on CSi Cable 67 followed by replays.