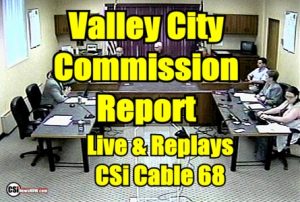 Valley City  (CSi)  The Valley City Commission met in Regular Session Tuesday evening at City Hall.  All members were present.
APPROVAL OF CONSENT AGENDA
Electrician, Plumber and/or Mechanical Contractor License(s) for Olauson Duct Cleaning.
Public Comments ….No one spoke
PUBLIC HEARING
Open Public Hearing regarding Special Assessments Commission for Paving Improvement District No. 121.  No property owners came forward to protest.
Following the Public Hearing City Commissioners, Approved Special Assessments as recommended by the Special Assessment Commission for Paving Improvement district No. 121
ORDINANCE
Approved the Second and Final Reading of an Ordinance to Amend and Reenact Section 14-12-02 of the Valley City Municipal Code Relating to Permits for Vehicles of Excessive Size and Weight.
City Attorney Martineck, said there were no changes from the First Reading concerning changes in the fees, and approved the master fee schedule.
RESOLUTION
Approved a Resolution Approving Engineer's Report & Directing Preparation of Detailed Plans, Specifications & Estimates of Probable Cost for Consolidated Sewer & Water District No. 59
Approved a Resolution Accepting Bid and Awarding West End Lift Station Project.
Approved was  a Resolution  approving the plat and variance request for Lunde addition to Barnes County.
Approved a Resolution offering for sale lots as listed, in the agenda, authorize and easement, with a planned trail on the site.
Approved a Resolution to approve the Master Fee Schedule.
NEW BUSINESS  
Approved a Special Alcohol Beverage Event Permit for Boomers Corner Keg on August 13, 2021from 6:00 PM to 12:30 AM for the Debbie Gabel Memorial Event. Finance Director Richter, said the police department has approved the permit.
Approved was a Visitors Committee Recommendation for Image Enhancement Grant for Thrivent in the amount up to $2,850 for a Storefront improvement. On Central Avenue.  Bobby Keplin,
Approved a 30 day notification to Leevers.  City Attorney Martineck, said with reconstruction in that area, the city is requesting taking back a portion of their parking lot.
Approved a Transition Plan for a hiring a new City Assessor Position, upon Sandy Hansen's retirement, when it occurs..  City Administrator, Crawford, explained the process, noting an internal hiring with training and salar
Approved were Appointments:
Outlined by Finance Director, Richter
Dick Gulmon-City County Health Board
Dewey Magnuson-VC Library Board
Tammy Jo Taft as VCSU Representative on the Visitor's Committee.
Considered was  Project Decisions concerning changes for 6th Street NW Reconstruction (NDDOT Project No. SU-2-990(060), PCN 23154). City Engineer, Chad Peterson offered alternatives, for the $1.5 million project.  The City Council approved and occurred with the changes as proposed.
Approval to Purchase property list as 63-3060062 for the assessed value of $12,500.  City Administrator Crawford, the State Water Commission will pay a percentage of the costs.
Approve a Site Authorization Renewal for the Valley City Twisters Gymnastics Inc. at Bridges Bar and Grill from 7/20/2021 to 6/30/2022.  Finance Director Richter, this is a renewal.
Approved Hannah Field Parking Lot Plans.  City Administrator Crawford presented information from Sheyenne Care Center, concerning plans.  She pointed out, some changes in access, entering  and leaving the lot, including  accommodating bus traffic in the area.
Approved a Special Alcohol  Event Permit for the Eagle Club on August 12 & 19 on Central Avenue for Summer Nights on Central.  Finance Director, Avis Richter said, this is the Second Annual Event, and police and fire departments have signed off on permit.
Approved a Special Alcohol Beverage  Event Permit for the Eagles Club on July 31, for an Outdoor Cornhole Tournament.  Finance Director, Avis Richter said police and fire have also signed off on this permit.
Highlighting the CITY ADMINISTRATOR'S REPORT:
Gwen Crawford said she and City Finance Director Avis Richter have been working on the 2022 city budget.
The StreetScape Committee is meeting, and noted additional items in this phase, some moving from the first phase including benches.
 CITY UPDATES & COMMISSION REPORTS:
City Attorney Martineck said the City Sanitation Department has an opening, with anyone interested to apply at City Hall.
City Fire Chief Scott Magnuson said a burn ban is still not in effect, and urges anyone using a fire pit on their property to have a garden hose available, and water the grass around it prior to using.
Chief Hatcher said, the Valley City Police Department has established a facebook page.
Commissioner Gulmon said through May this year, city sales tax collections are up 47 percent, restaurant tax collections are up 33 percent, and Hotel Tax Collections are up 16-percent.
Mayor Carlsrud said, the 2022 city budget planning is continuing with more meeting set.
The meeting was shown on CSi Cable 68 followed by replays.
Valley City (CSi) The ND Association of Counties (NDACo) and the ND County Commissioners Association (NDCCA) will hold a Barnes County Courthouse tour on Wednesday, July 21 at 10-a.m.