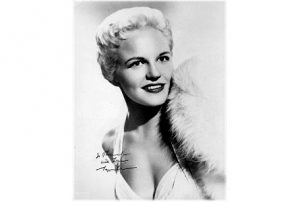 Valley City  (CSi)  An evening of Peggy Lee hits performed by the Myron Summerfeld Orchestra will be held on Friday September 10, 2021, at the Valley City Eagles Club.
The band will be performing at 6:15-p.m., featuring Peggy's Greatest Hits, with some bits of information about Peggy and her remarkable career.
The performance will precede a full buffet, that will be available starting at 7-p.m.,
The cost of the event and the meal is $25 per person, with proceeds from the commemorative event  benefiting the Barnes County Museum, to help defray the cost of necessary building improvements including replacement of the outdated elevator.
Tickets will be available at the Barnes County Museum Board Members and the Valley City Area Chamber of Commerce.
The event is also planned to commemorate Miss Lee's 101st birthday and her many years as a singer, songwriter, TV star, and popular entertainer.
Born on May 26, 1920, in Jamestown, ND,  Miss Lee's professional career spanned from 1936, to 2000, including jazz, popular, swing and blues.