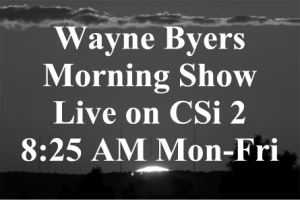 CSi Weather…
REST OF TODAY….Sunny. Highs in the mid 90s. Northwest winds 5 to 10 mph. Heat index 95 to 100.
.TONIGHT…Partly cloudy in the evening, then mostly cloudy with slight chance of showers and thunderstorms after midnight. Lows in the lower 70s. Northeast winds around 5 mph shifting to the west up to 5 mph after midnight. Heat index 90 to 95.
.FRIDAY…Decreasing clouds. A 50 percent chance of showers and
thunderstorms. Some thunderstorms may be severe in the afternoon.
Highs in the lower 90s. North winds 5 to 10 mph shifting to the
west 10 to 15 mph in the afternoon. Heat index 90 to 95.
.FRIDAY NIGHT…Partly cloudy. A 20 percent chance of showers and
thunderstorms in the evening. Some thunderstorms may be severe.
Lows in the lower 60s. Northwest winds 5 to 10 mph.
.SATURDAY…Sunny. Highs in the lower 90s. Northwest winds 5 to
10 mph increasing to 15 to 20 mph in the afternoon.
.SATURDAY NIGHT…Clear. Lows around 60.
.SUNDAY…Sunny. Highs in the lower 90s.
.SUNDAY NIGHT…Mostly clear. Lows in the mid 60s.
.MONDAY…Sunny. Highs in the mid 90s.
.MONDAY NIGHT…Mostly clear. Lows in the mid 60s.
.TUESDAY…Sunny. Highs in the mid 90s.
.TUESDAY NIGHT…Partly cloudy. Lows in the upper 60s.
.WEDNESDAY…Mostly sunny. Highs in the lower 90s.
There is a chance of thunderstorms late Thursday night. Severe weather is
unlikely.
Severe thunderstorms are possible Friday afternoon and evening,
with hail up to golf ball size and damaging winds up to 70 mph.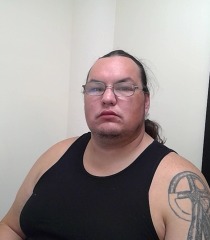 Jamestown  (JPD)  The Jamestown Police Department warns residents of a new High Risk Sex Offender residing in Jamestown.
Anthony Allen Rolland resides at 1530 6th Avenue, SW, Jamestown, ND Buffalo Motel, Room 25.
He presently has no vehicle.
He is a 37 year old American Indian male, 6-feet tall, weighing 350 pounds, with brown hair, and brown eyes.
Rolland has been assigned a high risk assessment by the North Dakota risk level committee, of the ND Attorney General's Office.
Offense: Gross Sexual Imposition, while at a residential involving a  13 year old girl.  Staff found broken ceiling tiles where Rolland and the girl would crawl through the ceiling to meet.
Conviction Date:  February 2003, in Morton County, ND District Court.
Disposition:  10-years, 5-years suspended, 35 days credit, 5 years supervised probation.
Offense: Gross Sexual Imposition.  Rolland forced a 10 year old girl to have sex with him on two occasions.
Conviction Date: January 2002 in Ransom County, ND District Court.
Disposition:  One year at DJS.
Rolland is not wanted by police at this time and has served the sentence imposed by the court.
This notification is meant for public safety and not to increase fear in the community, nor should this information be used to threaten, assault, or intimidate the offender.
Any attempts to harass, intimidate or threaten these offenders, their families, landlords, or employers will be turned over for prosecution.
Printed handouts of the demographics of Anthony Allen Rolland, are available at the Jamestown Police Department.
Rolland is on probation with ND Parole and Probation.
More information on registered sex offenders is available at the North Dakota Attorney General's web site: www.sexoffender.nd.gov
The North Dakota Department of Health dashboard is updated daily by 11 am and includes cases reported through the previous day. The investigations are ongoing and information on the website is likely to change as cases are investigated. The information contained in this dashboard is the most up to date and will be different than previous news releases. This dashboard supersedes information from previous news releases or social media postings.
Check out our other dashboards: The COVID-19 Vaccine Dashboard, NDUS Dashboard.
NDDoH
COVID-19 Stats
Wed. Jul 21,  2021
10:15 a.m.
Barnes
New Positives 0
Total Positives 1425
Active 0
Recovered: 1393
Stutsman
New Positives 0
Total Positives 3564
Active 14
Recovered  3468
FARGO, N.D. (AP) — Three doctors who specialize in reproductive health appeared in a virtual town hall across North Dakota in an attempt to clear up misinformation about effects of COVID-19 vaccines on fertility and pregnancy. The online forum hosted Wednesday by state Health Officer Dr. Nizar Wehbi came down to a pair of common themes. The doctors vouched for the safety of vaccinations for couples who want to have a baby and urged people to seek out their doctors or nurse practitioners with any questions. Dr. Stephanie Broadwell of Sanford Health Fargo, Dr. Stephanie Foughty of Altru Health Devils Lake and Dr. Ana Tobiaz of Sanford Health Bismarck closed the 45-minute session with the same message: Go get the vaccine.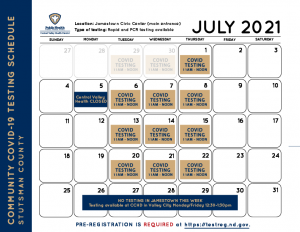 Jamestown (CVHD) Central Valley Health District's COVID-19 testing clinics are on Tuesdays, Wednesdays and Thursdays from 11-a.m. to noon.  The clinics will be held at the Jamestown Civic Center.   Pre registration is required.
Jamestown  (CVHD)  Central Valley Health District wants the public to know that there will be NO testing scheduled at the Civic Center on July 27, 28, and 29 due to availability of the testing site.
CVHD encourages those with symptoms to seek testing from their medical provider during the week of July 26 to July 30.  Testing is also available in Valley City on Monday July 26 and Friday July 30 at the public health department as an additional opportunity for testing.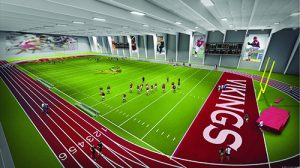 Valley City  (VCSU)  Valley City State kicked off their first-ever capital campaign,  Forward Together on Wednesday, at the W.E. Osmon Fieldhouse.
See Video presentation and photos
The Campaign for Valley City State University, is to ensure the future of our school and a quality experience for each student.
The campaign aims to raise $25 million for updating student athletic facilities, educational spaces and to provide scholarship support. Campaign supporters will gather at the W.E Osmon Fieldhouse to learn more about the campaign and celebrate the early success it has achieved.
VCSU President Dr. Alan LaFave said, "This campaign will propel VCSU into the future. We are continuously ranked as a U.S. News "Best College," experience record-breaking enrollment, and have a top-ranked Elementary Education Program.  Our success has grown the University and helped us realize it is time to invest in improving our facilities and scholarship support for our students."
He said, "Our mission is to provide the best possible student experience every single day.   The Forward Together campaign will make that happen. I'm excited to see how the campaign will transform our campus and open doors for future Vikings."
VCSU Athletic Director Jill DeVries, added, "Our athletic programs play an important role on campus, and in the community.  Upgrading our training and competition facilities will allow us to continue to recruit and retain the most talented student-athletes. To continue our success, we must pursue efforts like the Forward Together campaign."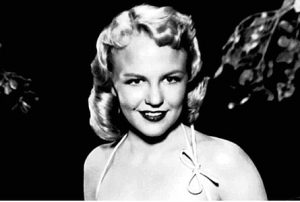 Valley City  (CSi)  An evening of Peggy Lee hits performed by the Myron Summerfeld Orchestra will be held on Friday September 10,2021, at the Valley City Eagles Club.
The band will be performing at 6:15-p.m., featuring Peggy's Greatest Hits, with some bits of information about Peggy and her remarkable career.
The performance will precede a full buffet, that will be available starting at 7-p.m.,
The cost of the event and the meal is $25 per person, with proceeds from the commemorative event  benefiting the Barnes County Museum, to help defray the cost of necessary building improvements including replacement of the outdated elevator.
Tickets will be available at the Barnes County Museum Board Members and the Valley City Area Chamber of Commerce.
The event is also planned to commemorate Miss Lee's 101st birthday and her many years as a singer, songwriter, TV star, and popular entertainer.
Born on May 26, 1920, in Jamestown, ND,  Miss Lee's professional career spanned from 1936, to 2000, including jazz, popular, swing and blues.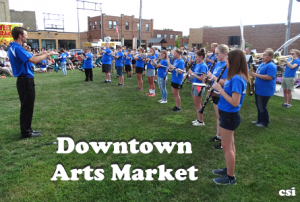 Jamestown  (CSi)  The Jamestown Arts Center has announced this summer's entertainment at the Downtown Arts Market, and the Hansen Arts Park, each Thursday,  at 5:30 pm
Enjoy the best of regional live entertainment in The Hansen Arts Park.  The Downtown Arts Market… a celebration of culture and community when we need it the most! Don't forget your lawn chair or blanket.
Would you like to one of the artisan vendors at this year's Downtown Arts Market? We are currently accepting applications. Click to download the Vendor Application.docx.
File Photos from 2019
July 22nd:  MATT HODEK & DAKOTA DUTCHMEN
With: Buffalo City Church
Matt Hodek's Dakota Dutchmen band is an authentic style polka band from Lankin, ND. They use traditional instruments such as concertina, accordion, tuba, piano, brass, reeds and drums to make up the sounds of this fine group of musicians. The tunes they play not only include polkas and waltzes but foxtrot, two-step, big band, patriotic and an occasional Christian song. The Dakota Dutchmen can be seen playing for festivals, community gatherings, family events, clubs or any place festive music is needed. Come out and take a listen when you see them in your area playing "HAPPY MUSIC FOR HAPPY PEOPLE"!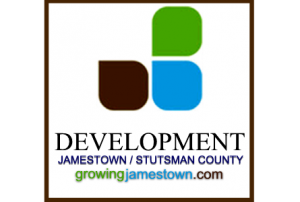 Jamestown  (CSi)   JSDC Internship Reimbursement Program Applications are Open for Fall Semester.
The Reimbursement Program designed to increase the number of local internships and assist our employers in workforce recruitment and retention. The Program will reimburse employers 50% of payroll costs up to a maximum of $3,500 total reimbursement. Applications are open to Stutsman County employers hiring University/College students. Application
deadline is August 13, 2021. Please help us spread the word about this great program.
Jamestown/Stutsman Development Corporation Executive Director Connie Ova says that at this time, JSDC is  awaiting the final reports from Eide Bailly, LLP, for the Buffalo World planning.
Brian Lunde says Apogee Attractions, LLC is proposing to complete the schematic design and environmental permitting matrix of the amusement park.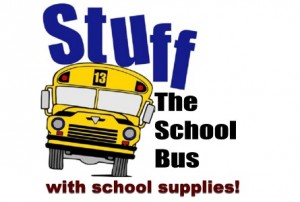 Jamestown (CSi) The Buffalo Mall is sponsoring its annual Back to School "Stuff the Bus" program. Donations can be dropped off at the main entrance of the Buffalo Mall or at Gate City Bank beginning July 26 through Aug. 15. People are encouraged to donate school supplies for area children in need. The mall's goal is to fill the school bus with backpacks, calculators, folders, notebooks, three-ring binders and other necessities for going back to school. School supply wish lists are available at the Buffalo Mall and Gate City Bank.
Community Action Region VI will be receiving the school supplies and distributing them to area children in need. Parents/guardians are asked to call 252-1821 beginning Aug. 16 for an appointment to pick up their children's school supplies.
Anyone with questions may contact the Buffalo Mall Management Office at 251-2237.
BISMARCK, N.D. (AP) — The former president of a Beulah bank has been barred from working at any financial institution in North Dakota because of bad business practices. The state Bank Board says the alleged transgressions occurred while Brady Torgerson worked at First Security Bank-West in 2020. Torgerson is accused of issuing loans above the lending limits, making loans at a reduced interest rate, and distorting the bank's financial position on quarterly reports. The board says he made 91 loans totaling $12.7 million without securing liens or gathering financial information. Torgerson tells The Bismarck Tribune that he was caught off guard by the announcement. He says he had not decided if he will contest the order.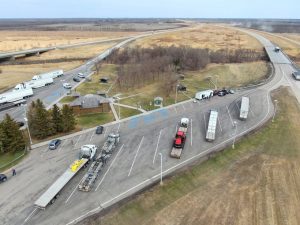 (AP)  The United States government is extending the closure of the land borders with Canada and Mexico until at least Aug. 21. The move announced Wednesday by the Department of Homeland Security came two days after the Canadian government announced it would begin letting fully vaccinated U.S. citizens into Canada on Aug. 9, and those from the rest of the world on Sept. 7. At the beginning of the pandemic in March 2020 both the U.S. and Canadian governments restricted non-essential travel by land between the two countries, although Canadians have been able to fly into the United States. Until the Canadian decision on Monday, the two governments had extended the closure every month.
WAHPETON, N.D. (AP) — The president of the North Dakota State College of Science says he's retiring in December. John Richman was appointed president of the Wahpeton college 15 years ago. He has been at the two-year school since 1986, when he was named head football coach. He has been a physical education instructor, athletic director and vice president for academic and student affairs. Richman served as interim president for one year and was named the college's ninth president in February 2007. North Dakota University System Chancellor Mark Hagerott says Richman showed "unparalleled energy and dedication" in his numerous roles at the college.
BISMARCK, N.D. (AP) — Nearly 41,000 gallons of oilfield wastewater has spilled from a broken pipeline in western North Dakota, impacting an unknown amount of land. The North Dakota Department of Environmental quality says Kansas-based Tallgrass Energy reported the produced water spill on Monday near Watford City. It was not immediately known what caused the leak. Agency officials were on scene Wednesday. A regulator says the wastewater migrated at least a half-mile break in the pipeline. Some of the water spilled in a dry drainage ditch that connects to Spring Creek, a tributary to the Little Missouri River.
OIL PRODUCTION-NORTH DAKOTA
Oil production flat in North Dakota due to worker shortage
BISMARCK, N.D. (AP) — Oil production is flat in North Dakota due to a workforce shortage as the industry recovers from the coronavirus pandemic. Companies say they are in need of workers to inject water, sand and chemicals down wells to crack open rock and release oil, a process known as hydraulic fracking. State Mineral Resources Director Lynn Helms says eight crews are currently working in North Dakota, down from at least 20 which would typically be working in the state at today's oil prices. Helms says many workers went to Texas where activity was significantly higher than it was in North Dakota.
In sports…
Wednesday
Morning Game
American Legion Baseball…
East Region Tournament…
Valley City's Post 60 Royals   14    Fargo Post 2   Stars 14-4 (five innings)
Thursday at 11 am the Royals take on the East   No. 2 seed in the West Fargo Aces. In the East Region,  double-elimination tournament.
Class B District 7 Tournament
At Enderlin
Game 1
Lisbon- 2 Wishek 0
Game 2
Lidgerwood/Hankinson- 12  Walpeton 3
Game 3
Lisbon 4  Lidgerwood/Hankinson 2
Game 4
LaMoure 11  Oakes 4
District 4
At Jack Brown Stadium
Jamestown Blues 7 Kidder County 6, 8 innings
Semifinal  Carrington Post 25 5 Sheyenne-New Rockford Black Sox 4
Sheyenne-New Rockford Black Sox 5 Jamestown Blues 4
The Blues season  ends at 15-12 overall.
HOOVER, Ala. (AP) — The Southeastern Conference could be adding two marquee football programs in the future.
The Houston Chronicle is reporting that Big 12 powers Texas and Oklahoma have reached out to the SEC about potentially joining the league. The report cites a source the paper did not identify, only to say it was a high-ranking official with knowledge of the situation.
The paper said an announcement could come in the next couple of weeks. Adding two members would give the powerhouse SEC 16 teams, the largest in major college football.
SEC Commissioner Greg Sankey declined to comment on the report.
MLB..
— Max Kepler homered in his second straight game and Jorge Polanco also went deep for the Twins in a 7-2 downing of the White Sox. Polanco made it 6-1 with his sixth-inning blast. The Twins beat the AL Central leaders for just the fourth time in 16 games.
— Yadier (YAH'-dee-ehr) Molina singled home the game-winning run off Craig Kimbrel in the bottom of the 10th to give the Cardinals a 3-2 win over the Cubs. Chicago tied it 2-2 in the ninth when pinch-hitter Eric Sogard (SOH'-gahrd) doubled to right off reliever Giovanny Gallegos. Harrison Bader has five multi-hit performances in his last seven games after going 3-for-4 with an RBI double that put St. Louis ahead in the seventh.
UNDATED (AP) — The Milwaukee Brewers enjoy a large lead in the National League Central right now, but they were never able to beat the worst team in the AL Central this season.
The Brewers put together a sloppy performance in a 6-3 loss to the Royals, allowing Kansas City to sweep the four-game season series.
Milwaukee made a pair of errors that caused the Royals' first five runs to be unearned. Nicky Lopez had the key hit, a tiebreaking, two-run double in a three-run sixth.
Brad Keller won for the first time since June 4, allowing three runs over 6 2/3 innings.
Milwaukee still leads its division by 6 ½ games over the Reds.
In other major league action:
— Yadier (YAH'-dee-ehr) Molina singled home the game-winning run off Craig Kimbrel in the bottom of the 10th to give the Cardinals a 3-2 win over the Cubs. Chicago tied it 2-2 in the ninth when pinch-hitter Eric Sogard (SOH'-gahrd) doubled to right off reliever Giovanny Gallegos. Harrison Bader has five multi-hit performances in his last seven games after going 3-for-4 with an RBI double that put St. Louis ahead in the seventh.
— The Giants have restored their two-game lead in the NL West by scoring three times in the ninth inning of a 4-2 comeback over the second-place Dodgers in Los Angeles. The Dodgers owned a 2-1 lead and were on the verge of pulling into a first-place tie until Wilmer Flores slammed a two-run homer off Kenley Jansen. The Giants received four perfect innings from their bullpen after starter Logan Webb was reached for three hits, including Chris Taylor's homer leading off the bottom of the first.
— Marcus Stroman was terrific in the Mets' 7-0 win over the Reds, allowing just one hit and one walk while striking out seven over eight innings. Stroman gave the bullpen a break after New York starters had worked just five innings over the last three games. Dominic Smith highlighted the offense with a grand slam for the Mets, who scored their other runs on homers by Luis Guillorme (gee-OHR'-may) and Jonathan Villar (vee-AHR').
— Fernando Tatis (tah-TEES') Jr. slammed his NL-leading 29th home run, a two-run blast that gave the Padres a 3-0 lead in a 3-2 win over the Braves in Game 1 of a doubleheader. The All-Star shortstop has eight hits, seven runs scored and six RBIs in his last five games. Chris Paddack reversed his recent struggles by limiting Atlanta to three hits over five scoreless innings.
— Game 2 of the Padres-Braves twinbill was suspended by rain in the middle of the fifth inning with San Diego leading, 5-4. The rest of the game could be played in San Diego when the Braves visit the Padres for a three-game series Sept. 24-26.
— The Marlins picked up a 3-1 win over the Nationals as pinch-hitter Jorge Alfaro doubled home the tiebreaking run in the 10th inning. Miguel Flores padded Miami's lead with a sacrifice fly before the Marlins ended a four-game losing streak. Andrew Stevenson had an RBI-double for Washington, which had its three-game winning streak halted.
— Pavin (PAY'-vihn) Smith and Daulton Varsho hit consecutive home runs leading off the seventh inning of the Diamondbacks' 6-4 downing of the Pirates. Madison Bumgarner allowed three runs over five innings for Arizona in his second start since coming off the injured list. The DBacks completed a three-game sweep and ran their winning streak to four games, tying a season high.
— Dom Nunez laced a three-run double while the Rockies scored five in the first inning of a 6-3 win against the Mariners. Austin Gomber pitched effectively for six innings in his return from the injured list, surrendering homers by Kyle Seager, Mitch Haniger and Luis Torrens. Gomber didn't allow any other hits in winning his fourth straight decision.
— The Blue Jays dropped their final home game in Buffalo as the Red Sox banged out five home runs in a 7-4 decision over Toronto. Kiké (KEE'-kay) Hernández, Rafael Devers (DEH'-vurz), Michael Chavis, J.D. Martinez, and Hunter Renfroe all homered for Boston, which kept its one-game lead over Tampa Bay atop the AP East. Garrett Richards and three Sox relievers held Toronto to five hits.
— The Rays pulled out a 5-4 win over the Orioles on Austin Meadows' two-out, two-strike, two-run single in the bottom of the ninth. Randy Arozarena (ah-roh-zah-REH'-nah) homered twice and had a key single in the ninth as Tampa Bay won for the 10th time in 13 games. The Birds' loss came after they announced that pitcher Keegan Akin and outfielder Anthony Santander (sahn-tahn-DEHR') were placed on the COVID-19 injured list.
— The Yankees coughed up a 5-2 lead before beating the Phillies, 6-5 on Ryan LaMarre's (lah-MAHRZ') game-ending single in the 10th inning. LaMarre's clutch hit gave the Yankees their fourth straight win and ninth in 12 games heading into a four-game series with Boston. The Phils tied it with a three-run eighth with help from an error, four walks and a wild pitch that knotted the score.
— The Tigers earned their sixth straight win as Matt Manning pitched six strong innings to lead a 4-2 victory over the Rangers. Robbie Grossman, Zack Short and Akil Baddoo hit home runs as the Tigers matched their longest winning streak since an eight-game run in 2016. Texas has lost eight in a row and has been outscored 47-5 in six games since the All-Star break.
— The Indians were 5-4 winners over the Astros as rookie Ernie Clement had a season-high three RBIs and Cesar Hernandez smacked a tiebreaking home run in the seventh inning. Rookie starter Eli Morgan permitted three hits and three runs in five-plus innings. Jose Altuve (al-TOO'-vay) and Kyle Tucker both homered for the second straight game, but Houston lost to Cleveland for the first time in seven meetings this year.
MLB-NEWS
Mets trade McKinney to Dodgers for minor leaguer, cash
UNDATED (AP) — The Mets have traded outfielder Billy McKinney to the Dodgers for minor league outfielder Carlos Rincon and cash.
The Mets acquired McKinney from Milwaukee on May 25. In 39 games with New York, the 26-year-old batted .220 with five home runs and 14 RBIs. He was designated for assignment on July 16.
The NL East-leading Mets also claimed right-hander Roel Ramírez off waivers from the Cardinals.
NHL-KRAKEN-EXPANSION DRAFT
AP sources: Kraken pass on Carey Price in expansion draft
SEATTLE (AP) — Carey Price remains property of the Montreal Canadiens after the Seattle Kraken passed on the netminder in the NHL expansion draft. Instead, the Kraken selected Panthers netminder Chris Driedger and gave him a three-year, $10.5 million package.
Seattle took on some big contracts, selecting Flames defenseman Mark Giordano and Islanders forward Jordan Eberle.
Other notable players chosen by the Kraken include Lightning center Yanni Gourde and Maple Leafs forward Jared McCann. Bruins defenseman Jeremy Lauzon was the first player taken by Seattle.
NFL-NEWS
Warner gets big extension
UNDATED (AP) — The San Francisco 49ers have agreed to a five-year contract extension with Fred Warner that makes him the highest-paid off-ball linebacker in the NFL.
A person familiar with the deal said the extension that runs through 2026 is worth about $95 million with $40.5 million in guarantees.
The package tops the $18 million a year average for Seattle's Bobby Wagner, which had been the top at the position.
ESPN first reported the deal.
In other NFL news:
— Steelers linebacker Vince Williams has announced his retirement just months after taking a pay cut to return for a ninth season. The 31-year-old Williams appeared in 121 games for the Steelers after making the team as a sixth-round pick out of Florida State in 2013. He carved out early in his career as a special teams ace and then became one of the more physical inside linebackers in the NFL.
COLLEGE FOOTBALL-BOWDEN-DIAGNOSIS
Hall of Famer Bobby Bowden has terminal medical condition
UNDATED (AP) — Legendary college football coach Bobby Bowden says he has been diagnosed with a terminal medical condition. He did not disclose his condition in his statement Wednesday.
The 91-year-old Bowden says he is at peace and is prepared for what is to come.
The College Football Hall of Famer was hospitalized last October after he tested positive for COVID-19. The test came a few days after he returned home from a lengthy hospital stay for an infection in his leg.
Bowden had 357 wins during his coaching career, most of them at Florida State. The Seminoles won 12 Atlantic Coast Conference championships and two national titles in his tenure.
OLYMPICS-NEWS
LaVine cleared, USA Basketball awaits 3 NBA Finals players
UNDATED (AP) — USA Basketball expects to have its full 12-man roster available for Sunday's matchup against France. It's the first game for both teams in the Tokyo Olympics.
Zach LaVine (lah-VEEN') has been cleared to exit the health and safety protocols that stemmed from a coronavirus testing-related issue. He will fly to Japan and rejoin the team Thursday.
Khris Middleton, Jrue (jroo) Holiday and Devin Booker are expected to arrive in Tokyo on Saturday after competing in the NBA Finals. Middleton and Holiday just helped the Bucks beat Booker's Suns.
In other Olympics news:
— U.S. gymnast Kara Eaker is doing well physically but remains in isolation three days after testing positive for COVID-19. A USA gymnastics official says Eaker is in isolation while teammate Leanne Wong is in quarantine. Both athletes served as alternates for the U.S. team. Wong continues to test negative but was put in quarantine due to contact tracing. The six-women U.S. delegation of Simone Biles, Sunisa Lee, Jordan Chiles, Grace McCallum, Jade Carey and MyKayla Skinner worked out on each event during podium training on Thursday. They're staying in a hotel near the venue rather than the Olympic village, a decision made before they arrived.
— While it certainly wasn't the Olympic start the U.S. women's soccer team had anticipated, a rare loss didn't skewer the squad's hopes for gold. The United States fell to Sweden 3-0 in the team's opener in Tokyo to snap a 44-match unbeaten streak. It was a surprising result for the favorites in the field. There's still a good chance that the Americans make it to the knockout round. At the 2008 Beijing Olympics, the United States fell 2-0 to Norway in the first match, then went on to win the gold medal.
— The Tokyo Olympic organizing committee has fired the director of the opening ceremony because of a Holocaust joke he made during a comedy show in 1998. His dismissal comes the day before Friday's opening ceremony of the pandemic-delayed Games. Earlier this week, a composer whose music is expected to be used at the opening ceremony was forced to resign because of past bullying of his classmates.
— Four-time women's basketball gold medalist Sue Bird and baseball player Eddy Alvarez have been chosen as USA flag bearers for Friday's opening ceremony. They are the first duo to share the honor of leading the delegation into the ceremony.
— Two athletes were among four residents of the Olympic Village who were added to the tally Thursday of people accredited for the Tokyo Games who have tested positive for COVID-19 this month. That brings the number to 91, including European swimming champion Ilya Borodin (BOH'-roh-deen) and a US volleyball player believed to be Taylor Crabb.
— Tokyo's COVID-19 infections have surged to a six-month high with the Olympic host city logging 1,832 new cases just two days before the Games open. Tokyo is currently under its fourth state of emergency, which will last two weeks after the Olympics end.
— Brisbane will host the 2032 Olympics, the inevitable winner of a one-city race steered by the IOC to avoid rival bids. The Games will go back to Australia 32 years after the popular 2000 Sydney Olympics.
— The International Olympic Committee says it will now include images of Olympic athletes taking a knee in its official highlights reels and social media channels. Players from five women's soccer teams kneeled in support of racial justice before their games Wednesday. That was the first day it was allowed at the Olympic Games after a decades-long total ban on athlete protest gestures on the field. But the images were excluded from highlights package provided by the IOC to media that could not broadcast the games live.
OLYMPICS-SCHEDULE
Sweden beats US as Olympic women's soccer tournament begins
TOKYO (AP) — Sweden has once again stunned the United States women's soccer team at the Olympics, this time with a 3-0 victory.
The top-ranked Americans were the favorites to win in Tokyo and owned a 44-match unbeaten streak. The Swedes bounced the Americans from the 2016 Brazil Games in the quarterfinals. Then in April, Sweden played the United States to a 1-1 draw in Stockholm, which snapped a winning streak dating back to January 2019.
Sweden now leads Group G heading into Saturday's game against Australia, while the United States faces New Zealand. The top two teams in the group advance to the knockout round.
In other Olympic action:
— The U.S. is 2-0 in Olympic women's softball following a 1-0 victory over Canada. Monica Abbott struck out nine in a complete-game one-hitter. Amanda Chidester singled home the game's only run. Center fielder Haylie McCleney combined with second baseman Ali Aguilar to throw out the potential tying run at the plate following Canada's only hit of the game.
In world and national news…
BEIJING (AP) — Global stock markets have followed Wall Street higher for a second day as optimism about a global economic recovery appears to be outweighing concern over rising coronavirus cases. Market benchmarks rose in Frankfurt, Shanghai and Hong Kong. London opened down less than 0.1%. Wall Street futures were up after the S&P 500 index rose 0.8% overnight, putting it on pace for a weekly gain after rebounding from Monday's 1.6% loss. Investors are wavering between looking ahead to a global recovery, supported by easy credit from central banks, and unease that it might be delayed by the spread of the more contagious delta variant of the coronavirus.
WASHINGTON (AP) — President Joe Biden's administration says it is making $3 billion in economic development grants available to communities — a tenfold increase in the program paid for by this year's COVID-19 relief bill. Commerce Secretary Gina Raimondo tells The Associated Press her agency will begin accepting applications for the competitive grants, which officials hope will create hundreds of thousands of jobs. The goal is to help struggling cities and towns make long-term investments to drive development for years to come. The grants will be targeted at supporting local infrastructure, job training programs and developing new industries.
WASHINGTON (AP) — The Justice Department is launching gun trafficking strike forces in five cities in the U.S. It's part of an effort to reduce spiking violent crime by addressing illegal trafficking and prosecuting offenses that help put guns in the hands of criminals. Attorney General Merrick Garland is launching the strike forces on Thursday in Chicago, New York, Los Angeles, San Francisco and Washington, D.C. The effort will include increased enforcement in so-called supply areas — cities and states where it is normally easier to obtain firearms that are later trafficked into cities with more restrictive gun laws.
(AP)  A judge says victims and families who suffered losses in the collapse of a 12-story oceanfront Florida condominium will get a minimum of $150 million in compensation initially. Judge Michael Hanzman said at a hearing Wednesday that sum includes insurance on the Champlain Towers South building and the expected proceeds from sale of the Surfside property where the structure once stood. It does not include proceeds from any of the numerous lawsuits filed since the June 24 collapse that left at least 97 people dead. Those lawsuits are being consolidated into a single class action potentially covering all victims and family members.