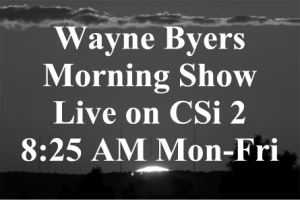 CSi  Weather…
.REST OF TODAY…Mostly sunny. Slight chance of showers and thunderstorms late in the morning, then chance of showers and thunderstorms in the afternoon. Some thunderstorms may be severe
in the afternoon. Highs in the mid 90s. Light winds becoming west around 10 mph in the afternoon. Chance of precipitation 30 percent, in the Jamestown area, 50 percent in the Valley City area.
.TONIGHT…Mostly clear. Scattered showers and thunderstorms in
the evening. Some thunderstorms may be severe. Lows in the lower
60s. Northwest winds 5 to 10 mph. Chance of precipitation
30 percent in the Jamestown area, 50 percent in the Valley City area.
.SATURDAY…Sunny. Highs around 90. West winds 5 to 10 mph
increasing to northwest 15 to 20 mph in the afternoon.
.SATURDAY NIGHT…Clear. Lows around 60. North winds 5 to 10 mph
shifting to the west after midnight.
.SUNDAY…Sunny. Highs in the lower 90s. Southwest winds 5 to
10 mph.
.SUNDAY NIGHT…Mostly clear. A 20 percent chance of showers and
thunderstorms after midnight. Lows in the lower 60s.
.MONDAY…Sunny. Slight chance of showers and thunderstorms in
the afternoon. Highs in the lower 90s.
.MONDAY NIGHT…Mostly clear. Lows in the mid 60s.
.TUESDAY…Mostly sunny. Highs in the mid 90s.
.TUESDAY NIGHT…Partly cloudy. Lows in the upper 60s.
.WEDNESDAY…Mostly sunny. Highs in the mid 90s.
.WEDNESDAY NIGHT…Partly cloudy. A 20 percent chance of showers
and thunderstorms in the evening. Lows in the mid 60s.
.THURSDAY…Mostly sunny. Highs in the upper 80s.
Severe thunderstorms are possible Friday afternoon and evening,
with hail up to golf ball size and damaging winds up to 70 mph.
Near critical fire weather conditions are possible Saturday
afternoon into the early evening.
The North Dakota Department of Health dashboard is updated daily by 11 am and includes cases reported through the previous day. The investigations are ongoing and information on the website is likely to change as cases are investigated. The information contained in this dashboard is the most up to date and will be different than previous news releases. This dashboard supersedes information from previous news releases or social media postings.
Check out our other dashboards: The COVID-19 Vaccine Dashboard, NDUS Dashboard.
NDDoH
COVID-19 Stats
Thus. Jul 22,  2021
10:15 a.m.
Barnes
New Positives 0
Total Positives 1425
Active 0
Recovered: 1393
Stutsman
New Positives 0
Total Positives 3564
Active 11
Recovered  3471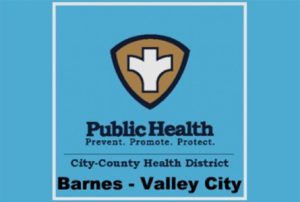 (CCHD)  City/County Health reports, that testing continues to be important. If you have any symptoms, it is important to be tested. If you have symptoms and need to be tested at other times contact your clinic.
Administrator Theresa Will says testing has moved inside City County Health, at the CCHD location.  415 2nd Ave NE, from 12:30-p.m., to 1:30-p.m, with  the Quick test will be administered by staff members inside their offices in Valley City, on Mondays and Fridays.
Vaccination available for those 12 years of age and older.
Call 845-8518 to make an appointment.
Pre-register for all clinics.
Vaccines available include, Pfizer, Moderna, and Johnson & Johnson.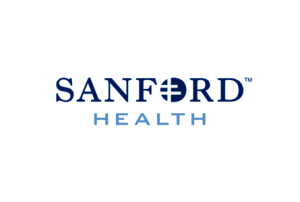 Sioux Falls, SD  — Sanford Health will require all employees get vaccinated against COVID-1 by November. 1, 2021according to an email sent by top health system administrators Thursday, July 22 and obtained by Forum News Service.
Forum News Service reports an E-Mail from President and CEO of the Sioux Falls, South Dakota-based health system, Bill Gassen and Chief Physician Dr. Jeremy Cauwels have told employees, which number about 48,000, "You deserve a safe environment when you come to work. Those who seek care with us expect the same."
All new employees as of September,1 2021 will be required to be vaccinated and any employees vaccinated in the previous 12 months will have met the requirement.
More than 90- percent of Sanford Health clinicians and 70-percent of nurses have already been vaccinated.
As with other vaccines, Sanford Health will allow certain exemptions for medical or religious reasons. Sanford Health already has a mandatory influenza vaccination policy in place. Allowed exemptions for the COVID-19 vaccine would be similar to those for the influenza vaccine, they said.
The American Hospital Association on Wednesday announced its support of hospitals and health systems that implement mandatory COVID-19 vaccination policies for health care personnel, Sanford Health noted in its news release on the mandatory vaccinations.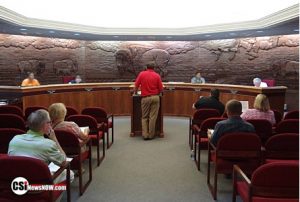 Jamestown  (CSi)  The Jamestown City Council's Police & Fire, and Public Works Committees met Thursday evening at City Hall.  All members were present.
POLICE & FIRE COMMITTEE
INFORMATIONAL: Police department and municipal court general update, training.
Police Chief Scott Edinger said August 3, is National Night Out, with food and activities at McElroy Park from 6-p.m., to 9-p.m.
INFORMATIONAL: Fire Department update, inspections, training.
The committee further discussed the  South Fire Station.
At the June 24 meeting,  discussed was the probable cost of a future south Public Safety Building. Travis Dillman said the information is vague at this time, without land acquisition costs not available.
Police Chief Edinger said, the preliminary floor plan has basic ideas in the documentation.  No land acquisition costs are included at this time.  He added an architect will also need to hired.
He talked about evidence collection and retention items, that continue to increase, and the property needs to kept, with over 3500 items collected and stored, at this time.  He said right now five  locations are being used, but not up to standards.  The Police Department is also holding the items under more security.  He said the Public Safety Building could also be used as a backup to the Dispatch Center, including for Barnes and Richland Counties.
On Thursday Chief Edinger said there needs to be updates on the way evidence is handled and stored, with a number of items that will be kept, for along time, and the list is growing.  Murder evidence items need to be kept forever. Sexual Assault evidence is stored, along with DNA evidence.  He said cases can take up to ten years to close, with evidence needing to kept in storage.
Certain drugs will also deteriorate over time.  An engineering would be hired, to oversee climate controlled needs, such as biological items.  The plan calls for an outdoor storage area, such as a vehicle.  Storage for Special Operations is also needed.  He added the current location floods on 3rd Street in a former Lefevre Building, destroying evidence.  He said during a trial the evidence currently needs to be brought  to court from multiple locations.   He said the goal is to make the facility cost effective and efficient.
Mayor Heinrich said the cost of the facility would in the millions of dollars, would need to be voted on by residence, including raising the mill levy to pay for it.  He said staff conversations need to be held concerning the feasibility of such a facility, and planning.
Also Thursday, City Fire Chief, Jim Reuter said,  the fire department will continue to run out of space, as equipment continues to enlarge.  He said in getting into the traffic flow on Business Loop West can be problematic especially in the winter.  The main pumper and rescue truck is stored there.
Council Member Buchanan said the city council needs address the needs, and come to a decision soon.
PUBLIC WORKS COMMITTEE
The committee recommended approval of Change Order No. 1, to CC Steel, LLC, on Sanitary Sewer Lift Station Improvements District 20-31 (Lift Station 11 & 1 Design), for a $2,497.50 increase in the contract price.
The committee recommended approval of Change Order No. 3 to CC Steel, LLC, on Sanitary Sewer Lift Station Improvements District 20-31 (Lift Station 20), for a $5,816.00 a decrease in the contract price.
These two items are on separate contracts.
INFORMATIONAL: City Engineer project updates, included water main improvements and other items.  Th UJ storm water project is nearly completed.  The downtown road diet has added striping in place, along with flower planters, and benches, and bike racks to be installed.
With City Curb  more work to do with seal coat set to be done by September 1
Work is completed behind Wilhelm's and Taco Bell ,work is moving up Mill Hill.
The meeting was shown live on CSi Cable 67 followed by replays.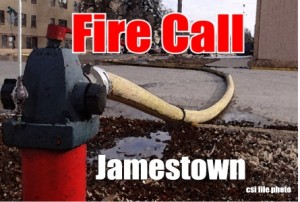 Jamestown  (CSi)  The Jamestown Fire Department was called Thursday about 11:30-a.m. to a call of a cut natural gas distribution line in the area of Meidinger Park, during construction in that area.
City firefighters including two fire units, and five firefighters  were  on scene for an .
20 firefighters were at the fire stations on standby.
The leak did not cause a fire, and was repaired by Montana-Dakota Utilities. No injuries were reported.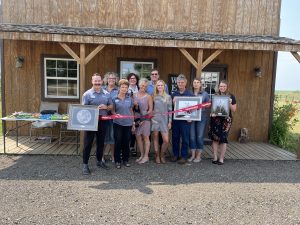 Jamestown  (Chamber) Members of the Jamestown Area Chamber of Commerce Ambassadors held a ribbon cutting ceremony for Voight Photography Studio. They recently opened their new business and offer photography services. They are located at 8048 27th St. SE. You can reach them at 701-252-4357.
Businesses qualify for a ribbon-cutting ceremony if they open, move, remodel, are under new ownership or change their name.  For more information, contact Emily Bivens by emailing: director@jamestownchamber.com or call the chamber at 701-252-4830.
Visit CSiNewsNow.com for a complete listing of Buffalo Days events and activities on Saturday.
BISMARCK, N.D. (AP) — North Dakota's general fund should collect far more money than expected in the two-year budget cycle that ended last month. The state's top budget writer says strong oil prices and a rebounding economy bumped general fund revenues to $5.7 billion for the 2019-21 budget cycle. Lawmakers forecast general fund revenues at $5.4 billion, with a positive balance of about $710 million. The additional revenues mean the general fund will now have an ending balance of more than $1 billion. General fund spending goes to many programs, including education and human services. It's largely funded by taxes on income, sales, and energy.
BISMARCK, N.D. (AP) — Amid a deepening drought, North Dakota's top agriculture official is asking the federal government to allow ranchers to hay idled grassland earlier than usual — while it's still of good quality. The federal government is allowing limited emergency grazing of Conservation Reserve Program land. But North Dakota ranchers say if they aren't allowed to hay that land until Aug. 1, the grass might not be of good enough nutritional quality to hay. The U.S. Drought Monitor map that came out Thursday shows all of North Dakota is in some form of drought, with more than 40% of the state in extreme drought.
BISMARCK, N.D. (AP) — A North Dakota man has been charged with attempted murder for allegedly trying to kill his girlfriend with a modified yo-yo string. According to the charges, the woman told police that the 32-year-old Bismarck man modified the yo-yo string to be used as a garotte because he believed it could sever a human head. A garotte is a wire or cord used to strangle someone. The charges say the woman was driving the man to the Bismarck Police Department on Tuesday so he could turn himself in on outstanding warrants when he threatened to kill her and wrapped the string around her neck. The string broke and she was able to leave.
MOORHEAD, Minn. (AP) — Authorities say a man who was injured in a Moorhead house fire earlier this week has died. The victim, 62-year-old Robert Blue, of Moorhead, died Wednesday at a Fargo, North Dakota hospital. Moorhead police are investigating the cause of death. The fire was reported by someone walking by the house shortly after noon Tuesday. Police evacuated a daycare provider and several children who were the house. They were not injured. The home is only used as a daycare and no one lives there. The state fire marshal is investigating the cause of the fire, which appears to have started in a second-floor kitchen.
In sports
Valley City (CSi)  The Wiffle Ball World Series in Valley City will be on July 24, at the Bergan Family home south of Valley City.  Opening Ceremony at 9-a.m.
A concert will feature "Trip Wire," in the parking lot of City Lights Supper Club., on Friday July 23, from 8-p.m. to 11-ap.m. A shuttle will be available from Grace Free Lutheran Church to City Lights.
The Wiffle Ball World Series committee has decided to make the Sheyenne Valley Community Foundation their charity for the 2021 tournament.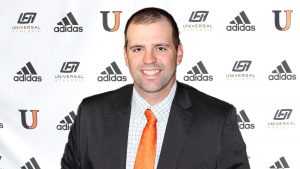 Jamestown  (UJ)  The University of Jamestown has announced Andrew Raske as the next coach for the Jimmie men's and women's track and field program.
Raske comes to UJ after serving as head coach at Hendrix College in Conway, Ark.
The Glencoe, Minn., native attended Glencoe-Silver Lake High School and competed as a decathlete and graduated from Concordia College in Moorhead in 2010.
University of Jamestown Director of Athletics Sean Johnson, says,  "Andrew is the right leader at the right time for Jimmie track and field.  His leadership style, commitment to the development of student-athletes, ability to coach multiple events, knowledge of strength and conditioning and his experience in administering top-flight track and field competitions is a perfect fit for where our track and field program is and the incredible future that lays ahead."
The University of Jamestown will open Charlotte and Gordon Hansen Stadium this fall and host the Al Cassell Relays in the spring, an event Raske competed in as an undergraduate.
Raske says, "I couldn't be more excited to lead the track & field programs at the University of Jamestown. The new outdoor facility and updated indoor track are a huge show of support by the University and the Jamestown community.  Dr. Peterson, Sean Johnson and the rest of the staff have been very welcoming, and I can't wait to get to work making Jimmie track & field a dominant force in the GPAC."
Raske has an impressive background, serving as head coach at Hendrix for the past four seasons after serving as an assistant the previous four years.
During his time at Hendrix, he coached six NCAA Division III All-Americans, 11 national qualifiers, 27 individual conference champions, 87 all-conference performers, 27 all-region performers, and set 45 school records. He also served as strength and conditioning coach for many of the of the Hendrix teams.
He was a graduate assistant coach from 2011-2013 at Minnesota State. He coached five NCAA Division II All-Americans, three conference champions and was part of a staff that won four conference titles, finished 5th at the 2013 NCAA Division II men's indoor national championships and hosted the 2012 NCAA Division II Indoor National Championships and both the 2012 and 2013 Northern Sun Intercollegiate Conference Indoor Championships.
Raske serves as lead field event technician for Eagle Eye Digital Video out of St. Paul, Minn., and recently worked the 2021 USA Olympic Trials in Eugene, Ore.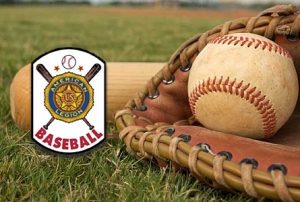 Thursday at Watford City
Jamestown  Post 14 Eagles  7  Watford City 6
The Eagles play Friday at 4-pm taking on the  winner of Dickinson vs. Mandan.
District 4 Tournament
Championship Game
At Jamestown
Carrington Post 25   6    Sheyenne/New Rockford Post 30    1
Carrington Post 25 advances to the State Class B Legion Baseball Tournament, at Oakes starting Thursday, July 29.
Class B District 7 Legion Baseball, Thurs.
At Enderlin
Championship
LaMoure 10 Oakes 2
Earlier, Oakes Defeated Lisbon
NFL-NEWS
NFL teams face potential forfeits for COVID-19 outbreaks
UNDATED (AP) — The NFL had to reschedule several games last season due to COVID-19 outbreaks within teams. The league won't be as willing to do that this year.
The NFL has informed teams they could potentially forfeit a game due to an outbreak among non-vaccinated players and that players on both teams wouldn't get paid that week.
In a memo sent to clubs that was obtained by The Associated Press, Commissioner Roger Goodell said the league doesn't anticipate adding a 19th week to accommodate games that can't be rescheduled within the 18-week regular season. However, forfeits are among the consequences. For purposes of playoff seeding, the forfeiting team will be credited with a loss and the other team will be credited with a win.
The league says more than half its teams have COVID-19 vaccination rates greater than 80% of their players, and more than 75% of players are in the process of being vaccinated.
In other NFL news:
— All-Pro middle linebacker Fred Warner has signed a five-year extension with the San Francisco 49ers taking him through the 2026 season. The 24-year-old Warner has started all 48 games in his three seasons with San Francisco, making 79 tackles last season with a sack, forced fumble and two fumble recoveries.
— Running back Saquon (SAY'-kwahn) Barkley is starting training camp for the Giants on the active/physically unable to perform list. The NFL's 2018 Offensive Rookie of the Year suffered a torn ACL during the Giants' second game last season and underwent surgery in October. Players on the Active/PUP list can be activated at any time during training camp.
— Jets assistant coach Greg Knapp has died at age 58 of injuries suffered in a bicycle accident near his home in California last Saturday. The family said in the statement that Knapp was struck by a car while riding his bicycle in the city of San Ramon in the San Francisco Bay Area and never regained consciousness.
MLB….
— Jack Mayfield smacked a three-run homer and Andrew Heaney went a season-high seven innings to the Angels', 3-2 decision over the Twins. Heaney gave up just four hits, two walks and two runs with seven strikeouts in his best outing in six weeks. Mayfield was hitting just .170 this season before his fifth-inning blast.
UNDATED (AP) — The Boston Red Sox have retained their lead in the American League East by rallying past the New York Yankees.
The Red Sox trailed in the ninth and 10th innings before beating the Yankees, 5-4. Xander Bogaerts ended the game – and the Yankees' four-game winning streak by lifting a sacrifice fly in the 10th. It came after Rafael Devers scored on one of four wild pitches by reliever Brooks Kriske in the inning.
Kiké (KEE'-kay) Hernández tied it in the ninth with a two-out, two-run double.
The Sox continue to lead the AL East by one game over the Rays.
Austin Meadows hit an RBI single in the 10th inning to complete the Rays' comeback in a 5-4 win over the Indians. It was the second straight game-winning hit for Meadows, who delivered a walk-off single to beat the Orioles on Wednesday.
Tampa Bay trailed 4-2 in the ninth before Yandy Diaz led off with a homer and Brandon Lowe (low) followed with an RBI double.
In other major league action:
— The San Francisco Giants scored four times in the ninth inning to turn a 3-1 deficit into a 5-3 victory over the Dodgers in Los Angeles. Darin Ruf worked out a bases-loaded walk to tie it before LaMonte (lah-MAHNT') Wade delivered a two-run single. Kenley Jansen was one out from picking up the save before the Giants stretched their lead in the NL West to three games over the Dodgers.
— The Padres were 3-2 winners over the Marlins as Blake Snell allowed one run in six-plus innings. The San Diego left-hander scattered three hits, struck out eight and walked three in his longest outing since June 4. Jurickson Profar (JUR'-ihk-suhn PRO'-fahr) had two hits and two RBIs in the victory.
— Kwang Hyun-Kim earned his fifth straight win and the Cardinals homered twice in a 3-2 win over the Cubs. Kim allowed two runs on two hits and a walk with seven strikeouts in six innings. Nolan Arenado and Dylan Carlson provided the longballs as St. Louis moved a game over .500 for the first time since June. 20.
— The Braves rolled past the Phillies, 7-2 as Dansby Swanson launched his first career grand slam and Orlando Arcia (AHR'-see-ah) added a solo shot. Charlie Morton is 9-4 after allowing two earned runs while striking out eight over six innings. The two teams are tied for second in the NL East, four games behind the idle Mets.
— The Athletics picked up a 4-1 win over the Mariners behind Sean Manaea (mah-NY'-ah), who struck out 13 while limiting Seattle to a run and three hits over seven innings. Manaea blanked the M's until Tom Murphy's solo homer in the seventh inning. Ramon Laureano supplied a pair of RBI singles and Sean Murphy doubled home a run as Oakland climbed within three games of the AL West-leading Astros.
— Eric Haase hit a three-run homer in the first inning of the Tigers' seventh consecutive win, 7-5 over the stumbling Rangers. Zack Short and Victor Reyes also homered for the Tigers, who completed a four-game sweep and a perfect post-All-Star break homestand. Texas has lost nine straight, equaling its longest slide this season.
MLB-UNDATED
Rays get Nelson Cruz…Mercedes unretires
UNDATED (AP) — Nelson Cruz will spend the rest of the major league season chasing a playoff berth.
The Rays have acquired the slugging designated hitter in a four-player trade with the Twins. Tampa Bay also receives minor leaguer Calvin Faucher from Minnesota for minor league right-handers Joe Ryan and Drew Strotman.
The 41-year-old Cruz has 436 career homers and 1,202 RBIs. He's batting .294 with 19 homers and 50 RBIs this season.
Also around the majors:
— Yermín (yehr-MEEN') Mercedes has changed his mind and is back with the White Sox's Triple-A affiliate, one day after posting that he was retiring from baseball. Mercedes apologized for his decision to leave the sport and was in the lineup Thursday for the Charlotte Knights against the Durham Bulls. The surprising rookie carried the White Sox with his booming bat early in the season and was sent to the minors following a prolonged slump.
NBA-NEWS
Pelicans hire Suns assistant Willie Green as new head coach
NEW ORLEANS (AP) — The New Orleans Pelicans have hired Phoenix Suns assistant Willie Green as their new head coach. Green is a first-time head coach after serving as an NBA assistant coach the past five years with Golden State and the Suns. He was a member of two NBA title-winning staffs with the Warriors in 2017 and 2018.
In other NBA news:
— Thousands of fans lined the streets of downtown Milwaukee Thursday to catch a glimpse of their beloved Bucks in a parade to celebrate the city's first NBA championship in half a century. Open-air buses and flatbed trucks carried Bucks stars including Finals MVP Giannis Antetokounmpo (YAH'-nihs an-teh-toh-KOON'-poh) and Jrue (jroo) Holiday, as well as the trophy they captured Tuesday night with a Game 6 victory over Phoenix.
NHL-NEWS
Rangers ink Goodrow
UNDATED (AP) — Forward Barkley Goodrow has signed a six-year contract with the New York Rangers after helping the Tampa Bay Lightning win consecutive Stanley Cups,
The signing comes less than a week after acquiring the rights to the unrestricted free agent from the Lightning for a seventh-round draft pick in 2022.
Goodrow skated in 55 games with Tampa Bay this past season, collecting six goals and 20 points. He led the team with 111 hits and a plus-16 rating.
In other NHL news:
— The Sharks have re-signed forward Rudolfs Balcers (BAL'-surs) to a two-year contract before he hit the market as a restricted free agent. The 24-year-old Balcers had eight goals and nine assists in 41 games last season after being brought back for a second stint with the Sharks.
— The Flyers have sent one-time cornerstone defenseman Shayne Gostisbehere (GAHS'-tihs-behr) to the Coyotes along with second- and seventh-round picks in next year's draft. Moving on from Gostisbehere gives the Flyers about $4.5 million in salary cap relief over the next two seasons, setting them up to continue a roster overhaul. The 28-year-old had a strong rookie season in 2015-16 but his play tailed off dramatically after that.
— The league has sent teams two versions of the schedule for the 2021-22 season. One includes an Olympic break to pause the season so NHL players can go to Beijing. The other is what the season would look like if the league, players and international officials cannot reach an Olympic agreement.
OLYMPICS-NEWS
Crabb out of Olympics due to coronavirus
TOKYO (AP) — American beach volleyball player Taylor Crabb is out of the Olympics after four positive COVID-19 tests. Tri Bourne will take his place as the partner of four-time Olympian Jake Gibb when the competition begins this weekend. Crabb confirmed his withdrawal Thursday in a statement to The Associated Press, noting that he was vaccinated and tested negative before he left the United States but tested positive when he arrived in Japan.
In other Olympics news:
— About 100 of the 613 U.S. athletes descending on Tokyo for the Olympics are unvaccinated. This, according to the U.S. Olympic and Paralympic Committee's medical chief. Medical director Jonathan Finnoff says some 600 of the American athletes had filled out their health histories as they prepared for the trip, and estimated 83% had replied they were vaccinated. The IOC has estimated around 85% of residents of the Olympic Village are vaccinated; they base that on what each country's Olympic committee tells them but have not independently verified the number.
— Naomi Osaka's opening match in the tennis tournament has been pushed back from Saturday to Sunday. Organizers did not immediately provide a reason for the switch, only saying that the move came from the tournament referee. Osaka was originally scheduled to play 52nd-ranked Zheng Saisai of China in the very first contest of the Games on center court Saturday morning.
— The West African country of Guinea has reversed an earlier decision to pull out of the Olympics and will send a delegation of five athletes. The country's Minister of Sports made the announcement Thursday after national and international outcries that followed an earlier declaration that Guinea would not send athletes to Tokyo, blaming the coronavirus and its variants.
— The World Anti-Doping Agency says several Russian athletes have been kept away from the Games because of doping suspicions based on evidence from a Moscow testing laboratory that was shut down in 2015. WADA's director general says it intervened with sports bodies to ensure the handful of athletics were not selected. The team of 335 Russian athletes accredited for Tokyo is competing without a national flag and anthem as punishment for state tampering with the Moscow lab's database.
— U.S. gymnast Kara Eaker is in isolation after testing positive for COVID-19, while teammate Leanne Wong is in quarantine. Both are alternates for the U.S. team. The U.S. delegation of Simone Biles, Sunisa Lee, Jordan Chiles, Grace McCallum, Jade Carey and MyKayla Skinner worked out on each event during podium training on Thursday. They're staying in a hotel near the venue rather than the Olympic village, a decision made before they arrived.
— Tokyo hit another six-month high in new COVID-19 cases a day before the Olympics begin. Thursday's 1,979 new cases are the highest since 2,044 were recorded on Jan. 15. Japan's prime minister placed Tokyo under a state of emergency on July 12, but daily cases have sharply increased since then.
— Tommie Smith, John Carlos and Gwen Berry are among more than 150 educators, activists and athletes who signed a letter Thursday urging the IOC not to punish participants who demonstrate at the Tokyo Games. The five-page letter asks the IOC not to sanction athletes for kneeling or raising a fist, the way Smith and Carlos did at the 1968 Mexico City Games. That move that got them kicked out of the Olympics.
— The IOC says it will now include images of Olympic athletes taking a knee in its official highlight reels and social media channels. Players from five women's soccer teams kneeled in support of racial justice before their games Wednesday. Those images were excluded from highlights package provided by the IOC to media that could not broadcast the games live.
— Six Polish swimmers have returned home before the Olympics even started, their dreams scuttled by the country mistakenly sending too many athletes to Tokyo. Only 17 swimmers from Poland qualified for the Tokyo Games. The country's swimming federation put 23 athletes on the plane to Japan, sparking outrage among those who were denied a chance to compete.
SENIOR BRITISH OPEN
Darren Clarke, James Kingston share Senior British Open lead
BERKSHIRE, England (AP) — Darren Clarke shot a 5-under 65 for a share of the Senior British Open lead with James Kingston at Sunningdale.
Clarke had six birdies and a bogey on the Old Course in the final senior major championship of the year, while Kingston played a bogey-free round.
Defending champion Bernhard Langer was a stroke back with Ricardo Gonzalez and Stephen Dodd.
In world and national news…
BLY, Ore. (AP) — Crews are making progress against the nation's largest wildfire in Oregon even as fires in neighboring California continue to threaten homes. The Bootleg Fire, which has destroyed an area half the size of Rhode Island, is 40% surrounded after burning some 70 homes. Fire officials say they've surrounded much of the bottom half. An upper eastern edge is still advancing toward thousands of homes but authorities say the pace is slower than last week, when the fire exploded. In California, blowing embers from the Tamarack Fire south of Lake Tahoe ignited a fast-moving spot fire, prompting a new evacuation near Topaz Lake on the California-Nevada line.
WASHINGTON (AP) — Republican lawmakers are under increasing pressure to persuade vaccine skeptics to roll up their sleeves and take the shots as a new, more contagious COVID-19 variant sends caseloads soaring. But it may be too late to change the minds of many who are refusing. After months of ignoring — and, in some cases, stoking — misinformation about the virus, more Republicans have been imploring their constituents to lay lingering doubts aside. The outreach comes as COVID-19 cases have nearly tripled in the U.S. over the last two weeks, driven by the explosion of the new delta variant, especially in pockets of the country where vaccination rates are low.
WASHINGTON (AP) — House Speaker Nancy Pelosi says a committee investigating the Jan. 6 Capitol insurrection "will do the job it set out to do" whether Republicans participate or not. Pelosi calls the probe "deadly serious." House GOP Leader Kevin McCarthy said Republicans won't participate after Pelosi rejected two of the Republicans he chose to sit on the panel. Pelosi made clear on Thursday that she won't change her mind. It is unclear whether Pelosi will try to appoint other members to the panel, as she has the authority to do under committee rules. Pelosi has left open the possibility that she would do that.
ISLAMABAD (AP) — The spokesman for the Afghan Taliban says the insurgents don't want to monopolize power. But he says there won't be peace in Afghanistan until there is a new, negotiated government in Kabul and President Ashraf Ghani is removed from office. Suhail Shaheen, who is also a member of the Taliban's negotiating team, told the AP that under the Taliban, women will be allowed to work, go to school and participate in politics but they'll have to wear the hijab, or headscarf. He laid out the Taliban stance as they are making swift gains on the ground, and the top U.S. military officer says the insurgents have "strategic momentum."
BERLIN (AP) — Germany's national railway operator has estimated that last week's flooding caused damage worth 1.3 billion euros ($1.5 billion) to its network. The figure given Friday offers another glimpse of the extent of the devastation. Authorities are still working to determine the overall cost of the floods that did their worst damage in western Germany and eastern Belgium. German Chancellor Angela Merkel said this week that the damage is "immense" and will take a long time to repair. At least 177 people died in Germany in the flooding and a further 31 deaths were reported in Belgium, taking the overall death toll to 208.
BEIJING (AP) — A typhoon is forecast to bring heavy rains to Taiwan and coastal China over the weekend, days after the worst flooding on record in a central Chinese province caused at least 51 deaths. Typhoon In-fa is expected to make landfall in Zhejiang province either Sunday afternoon or early Monday morning. Zhejiang and Fujian province to the south issued typhoon warnings and called on local officials to take preventative measures. Those include recalling fishing boats to port and relocating people living in vulnerable coastal communities. The typhoon is expected to pass north of Taiwan while still bringing considerable rain to the island.
NEW DELHI (AP) — A government official says landslides triggered by heavy monsoon rains hit parts of western India, killing at least 32 people and leading to the overnight rescue of more than 1,000 other people trapped by floodwaters. The dead were killed in three landslides Thursday in Raigad district in western Maharashtra state. Many of those rescued were stranded on rooftops and even on top of buses on highways. The official said the rains had slowed and water levels were coming down Friday.
BANGKOK (AP) — European markets have opened higher after a mixed day of trading in Asia, amid persisting worries that the more contagious delta variant of COVID-19 will dent recoveries from the pandemic. Benchmarks advanced in Frankfurt, Paris and London, but fell in Shanghai and Hong Kong. U.S. futures were higher. Tokyo was closed Friday for a holiday. On Thursday, S&P 500 emerged from a midday slump to end 0.2% higher. It was still on track for a gain this week, but trading was subdued as investors reviewed the latest corporate earnings and a surprise increase in the number of Americans filing for unemployment benefits.