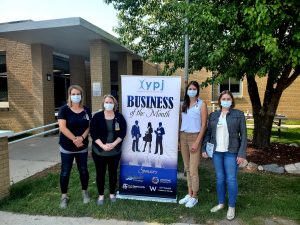 Jamestown  (Chamber)  The Chamber recently recognized Anne Carlsen Center as the Sept Business of the Month Award recipient for their outstanding customer service and continued commitment to the community.
Their nomination stated, " My son needed a little extra help. We were referred to the Anne Carlsen Out Patient Therapy Department and they are wonderful. We felt welcomed as soon as we walked in the door. We had been dealing with this issue for quite some time, and I was feeling like a failure of a mom. They made me understand that it is OK to ask for help and that I was actually a Rockstar of a mom for bringing my son in to be seen. He's only been seen a few times, but I now have the confidence that he will work through this issue. I don't know what I would have done without them. I just want them to know that they are making a difference in people's lives including this mom who wasn't even the one with the appointment! Thank you for all you do!"
The Jamestown Area Chamber of Commerce honors businesses that provide superior customer service, exhibit community spirit and provide a positive economic impact to the community.  This award provides recognition throughout the month with a plaque and a recognition banner for the month. Monthly award winners will be considered for the Business of the Year to be awarded in January of 2022.  Business of the Month award nomination forms are available at the Chamber office and online at www.jamestownchamber.com. Call 701-252-4830 for more information.