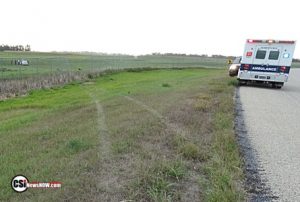 Jamestown  (CSi)  Jamestown Police investigated a incident at Jamestown Regional Airport on  Monday morning at about 8:36-a.m. when a car drove through a fence on airport property.
The car was eastbound on Old Highway 10, and failed to negotiate a curve, east of Airport Road going into a ditch and through the fence into a grassy area.
The female driver was not injured.
Assisting police at the scene was Jamestown Area Ambulance Service.
The Jamestown City Fire Department was dispatched to the scene, but was called back when it was determined by police there assistance was not needed.
The car was towed from the scene.
The incident remains under investigation by Jamestown Police.