CSi Weather…
TONIGHT…Mostly clear. Lows in the upper 40s. Southwest winds around 5 mph.
.WEDNESDAY…Mostly sunny. Highs in the lower 80s. South winds 10 to 20 mph with gusts to around 35 mph.
.WEDNESDAY NIGHT…Partly cloudy.  A 20 percent chance of rain
showers and thunderstorms in the evening in the Valley City area. Lows in the lower 50s. South winds 10 to 15 mph shifting to the northwest around 5 mph after midnight.
.THURSDAY…Mostly sunny. Highs around 70. North winds 5 to
15 mph.
.THURSDAY NIGHT…Partly cloudy. Lows in the mid 40s.
.FRIDAY…Mostly sunny. Highs in the upper 60s.
.FRIDAY NIGHT…Decreasing clouds. Lows around 50.
.SATURDAY…Mostly sunny. Highs in the upper 70s.
.SATURDAY NIGHT…Mostly clear. Lows in the upper 50s.
.SUNDAY…Sunny. Highs around 80.
.SUNDAY NIGHT…Increasing clouds. Lows in the lower 50s.
.MONDAY…Partly sunny. Slight chance of rain showers in the
morning, then slight chance of rain showers and thunderstorms in
the afternoon. Highs in the lower 70s. Chance of precipitation
20 percent.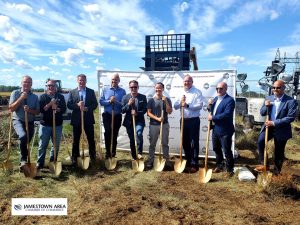 Jamestown  (CSi)  Tuesday September 14 a  ground breaking was held for the Applied Block Chain business to be located on Highway 20, a new cryptocurrency mining company. Cryptocurrency mining, or cryptomining, is a process in which transactions for various forms of cryptocurrency are verified and added to the blockchain digital ledger.
 On hand were company representatives, local government leaders, members of JSDC, and strategic partners.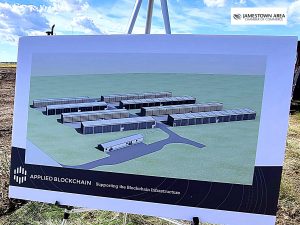 Applied Blockchain, Inc.'s CEO and Chairman, Wes Cummins  said, "We are moving quickly to bring this large-scale project to life. Our team successfully selected and secured the site, entered into an energy services agreement, placed orders for long-lead equipment and signed multiple long-term hosting agreements. I'm proud of our team and all the hard work that got us to this point. We are excited to become a part of this community as we bring this project online."
Applied Blockchain delivers cryptocurrency mining and infrastructure solutions to its customers.  The company has partnered with Bitmain, SparkPool and General Mining Research.
Applied Blockchain will employ about 30 people on site to monitor the equipment 24 hours per day at the hosting facility near Jamestown.
The company plans to open the Jamestown location later this year.
The Jamestown Chamber of Commerce  organized the groundbreaking  on Highway 20 north of the city, at the area of the Otter Tail Power Company substation.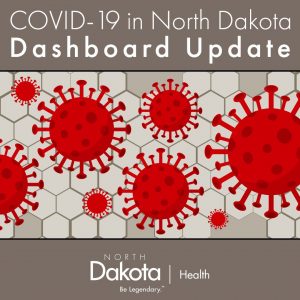 The North Dakota Department of Health dashboard is updated daily by 11 am and includes cases reported through the previous day. The investigations are ongoing and information on the website is likely to change as cases are investigated. The information contained in this dashboard is the most up to date and will be different than previous news releases. This dashboard supersedes information from previous news releases or social media postings.
Check out our other dashboards: The COVID-19 Vaccine Dashboard, NDUS Dashboard.COVID- 19 stats:
COVID-19 Stats
Tues. Sept. 14,  2021
10:30- a.m.
Barnes
New Positives: 7
Total Positives:  1516
Active: 30
Recovered: 1454
Stutsman
New Positives:  7
Total Positives:  3865
Active:  93
Recovered: 3690
North Dakota Statewide Stats
NEW CASES REPORTED ON TUESDAY FROM  MONDAY, SEPT. 13, 2021 : 373
ACTIVE CASES*: 2,712
DAILY POSITIVITY RATE: 8.5%
TOTAL KNOWN CASES THROUGHOUT PANDEMIC: 123,104
TOTAL RECOVERED THROUGHOUT PANDEMIC: 118,116
North Dakota  14-day rolling average positivity rate is 6.3%
North Dakota Active Hospitalizations: 100
Deaths:  3
Total Deaths:  1,576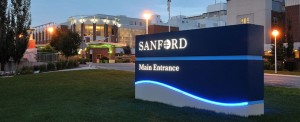 FARGO, N.D. (AP) — An executive at the largest health care system in North Dakota says its hospitals in Fargo alone could use up to 300 more nurses to handle COVID-19 cases. Dr. Doug Griffin is the Sanford Health vice president and medical officer in Fargo, the state's largest city. He says the Fargo system has hired 150 travel or contract nurses from other areas. The system is offering increased wages, sign-on bonuses and other unspecified perks to attract more workers. Griffin says it's the most dire staffing situation the system has ever faced. And the peak for hospitalizations due to the coronavirus is still weeks away.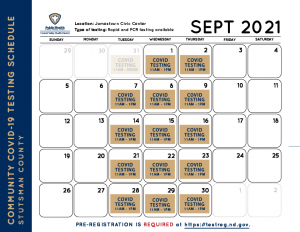 Jamestown (CVHD) Central Valley Health District reminds residents that COVID testing is on Tuesdays, Wednesdays, and Thursdays, at the Jamestown Civic Center, Exchequor Room, from 11-a.m. to 1pm.
Call CVHD at 701-252-8130 to register.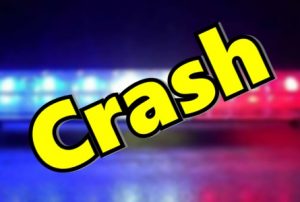 Binford  (NDHP)  The North Dakota Highway Patrol investigated a crash
on Tuesday about 2:47-p.m.,  on Highway 65, 7 miles east of Binford.
An Oldsmobile Alero, driven by 72 year old Dale Kinzler,  of Cooperstwn was eastbound on Highway 65, traveling to Cooperstown. The semi, driven by  23 year old Rylan Briss, of Cooperstown, was southbound on 110th Ave NE approaching the intersection of Highway 65. Briss failed to yield for the Kinzler's Oldsmobile that braked but struck the right side of the semi.
Briss was not injured. Kinzler was flown by Sanford AirMed to Sanford
Hospital in Fargo,  where he is in stable condition.
The crash is still under investigation by the Highway Patrol.

Assisting at the scene were:  The Steele County Sheriff's Office, Cooperstown Fire Department, Cooperstown Ambulance, and Sanford AirMed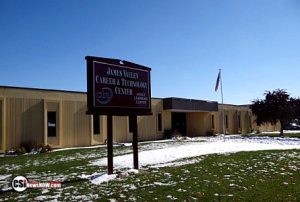 Jamestown  (CSi)  Jamestown/Stutsman Development Corporation  (JSDC) held its monthly board meeting on Monday.
On Tuesday's Wayne Byers Show on CSi Cable 2, JSDC Business Development Director, Corry Shevlin said, the board voted to approve match funding for the James Valley Career and Technology Center, where  a 7,000-square-foot addition is planned on the south side of the building.  A portion of the existing space is planned, along with  an accessible greenhouse for the agricultural trades program.
Project costs are estimated between $1.3 million and $1.4 million.
Also JSDC policy and procedure were discussed for action.
Also Corry noted that funds in the FlexPACE local program has dollars still available.
The Board of Directors unanimously approved a request for $50,000 to contract preliminary engineering for cost estimates of extending utilities to proposed housing development site
Corry also commented on the recent, Eide Baily report concerning positive information on the feasibility of Bison Word in Jamestown.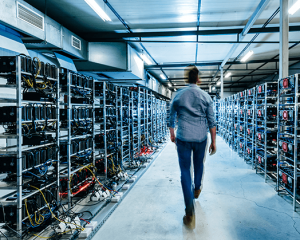 Jamestown  (CSi)  Applied Blockchain, Inc. held a groundbreaking ceremony, Tuesday, at its first hosting facility site located in Jamestown.
Applied Blockchain, Inc.'s CEO and Chairman, Wes Cummings said, "We are moving quickly to bring this large-scale project to life. Our team successfully selected and secured the site, entered into an energy services agreement, placed orders for long-lead equipment and signed multiple long-term hosting agreements. I'm proud of our team and all the hard work that got us to this point. We are excited to become a part of this community as we bring this project online."
About Applied Blockchain
Applied Blockchain, Inc. (OTC: APLD) delivers high-performance crypto mining and infrastructure solutions to customers around the globe. The Company has partnered with Bitmain, SparkPool, and General Mining Research (GMR) to develop, deploy and scale its business. Applied Blockchain also engages in direct mining of Ethereum, Bitcoin and other crypto assets. The Company is backed by some of the largest family offices and institutional investors in the US.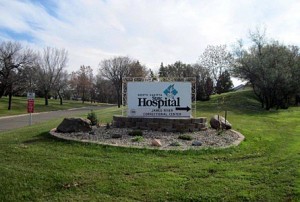 Jamestown  (CSi)  The North Dakota State Hospital Governing Board has voted to recommend proceeding with the construction of a new facility. On a 7-0 vote.
State Representative  Karen Rohr, fromMandan, recused herself from the vote, as  a member of the North Dakota Legislature, and will vote on the issue the where plans and funding for a new State Hospital facility have been introduced in each of the last two North Dakota legislative sessions, and then turned into a study to determine the need.
The cost of a new  State Hospital is estimated at $150 million and $160 million and would likely be constructed  State Hospital land.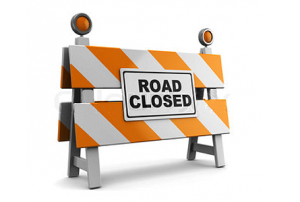 Jamestown  (City) A  road closure is planned on Wednesday, September 15, and Thursday, September  16, at the intersection of 8th Street and 2nd Avenue Northeast. The closure will begin at about 7 a.m. Wednesday and last until about 6 p.m. Thursday, for water and sewer line construction.  Signing will be put in place by the contractor.
Motorists are asked to use caution in the area and alternate routes if possible
BISMARCK, N.D. (AP) — The developer of an oil refinery near Theodore Roosevelt National Park will keep its construction permit active, even after it has faced delays and received two extensions. North Dakota environmental officials have determined Meridian Energy Group has made enough progress on the $1 billion project this summer to keep the permit active. Meridian cited several reasons for the delays, including lawsuits filed by environmental groups over the permitting process, as well as the coronavirus pandemic, which led to a downturn in the oil industry last year. Meridian first proposed the refinery just 3 miles from the park in 2016, with the goal of having it operating by next year.
Update
MINNEAPOLIS (AP) — Four former Minneapolis police officers charged with violating George Floyd's civil rights have pleaded not guilty to the federal charges against them. A federal grand jury indicted Derek Chauvin, Thomas Lane, J. Kueng and Tou Thao in May for allegedly depriving Floyd of his rights while acting under government authority. Tuesday's hearing was held remotely via videoconference. Chauvin appeared from a state prison, where he is serving a 22 1/2-year sentence for murder. Attorneys and the judge worked through about 40 pretrial motions, including a request for Lane, Kueng and Thao to stand trial separate from Chauvin. The judge is seeking more written arguments on that issue.
In world and national news…
(AP)  American intelligence officials say al-Qaida could begin to threaten the homeland from Afghanistan within one to two years, echoing warnings that were issued prior to the U.S. withdrawal ending its 20-year war. Lt. Gen. Scott Berrier, who leads the Defense Intelligence Agency, gave that estimated timeframe Tuesday while speaking at the Intelligence & National Security Summit. David Cohen, deputy director of the Central Intelligence Agency, said the U.S. already had detected "some of the indications of some potential movement of al-Qaida to Afghanistan." Experts have long said the Taliban still maintains ties to al-Qaida, which took sanctuary in Afghanistan prior to the Sept. 11, 2001, attacks.
WASHINGTON (AP) — Secretary of State Antony Blinken is facing a second day of tough congressional questions about the Biden administration's much-criticized withdrawal from Afghanistan. Testifying before the Senate Foreign Relations Committee on Tuesday, Blinken sought to parry a new wave of bipartisan lawmaker anger over the operation that resulted in the complete takeover by the Taliban and has left many American citizens, green card holders and at-risk Afghans stranded in the country. The top two members of the committee, New Jersey Democrat Bob Menendez and Idaho Republican James Risch, both assailed the withdrawal as a failure in their opening remarks.
WASHINGTON (AP) — Fearful of former President Donald Trump's actions in his final weeks in office, the United States' top military officer twice assured his Chinese counterpart that the two nations would not go to war. According to a forthcoming book, Chairman of the Joint Chiefs of Staff Mark Milley told a Chinese general that the United States would not strike. One call took place four days before the election that defeated Trump and the other just two days after the Jan. 6 insurrection at the U.S. Capitol. The calls are recounted in a coming book by Washington Post journalists Bob Woodward and Robert Costa. The Post reported on the book's contents Tuesday.
UTICA, N.Y. (AP) — A federal judge has temporarily blocked the state of New York from forcing medical workers to be vaccinated after a group of health care workers sued, saying their Constitutional rights were violated. Judge David Hurd in Utica issued the order Tuesday after 17 health professionals, including doctors and nurses, claimed the vaccine mandate violated their rights because it disallows religious exemptions. The judge gave New York state until Sept. 22 to respond to the lawsuit in federal court in Utica. The state issued the order Aug. 28, requiring at least a first shot for health care workers at hospitals and nursing homes by Sept. 27.