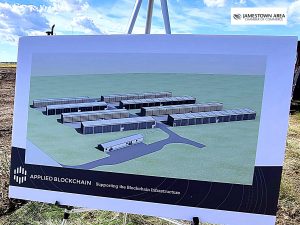 Jamestown  (CSi)  Tuesday September 14 a  ground breaking was held for the Applied Block Chain business to be located on Highway 20, a new cryptocurrency mining company. Cryptocurrency mining, or cryptomining, is a process in which transactions for various forms of cryptocurrency are verified and added to the blockchain digital ledger.
 On hand were company representatives, local government leaders, members of JSDC, and strategic partners.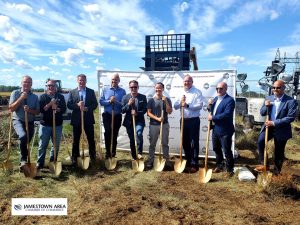 Applied Blockchain, Inc.'s CEO and Chairman, Wes Cummins  said, "We are moving quickly to bring this large-scale project to life. Our team successfully selected and secured the site, entered into an energy services agreement, placed orders for long-lead equipment and signed multiple long-term hosting agreements. I'm proud of our team and all the hard work that got us to this point. We are excited to become a part of this community as we bring this project online."
Applied Blockchain delivers cryptocurrency mining and infrastructure solutions to its customers.  The company has partnered with Bitmain, SparkPool and General Mining Research.
Applied Blockchain will employ about 30 people on site to monitor the equipment 24 hours per day at the hosting facility near Jamestown.
The company plans to open the Jamestown location later this year.
The Jamestown Chamber of Commerce  organized the groundbreaking  on Highway 20 north of the city, at the area of the Otter Tail Power Company substation.