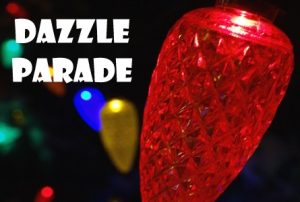 Jamestown  (CSi)  The Annual Dazzle on Main parade returned to Downtown Jamestown on Friday November 26, 2021. Over 40 floats and entries participated.
Jamestown Downtown Association, President, Lynn Lambrecht reports the 2021 Dazzle Parade Float Winners:
Best Dazzle: Otter Tail Power Company
Most Original Theme: Alpha Opportunities
Most Outstanding Amateur Built:  Premium Property
Most Outstanding Civic or Non-Profit: Anne Carlsen Center
The Parade was recorded by the CSi Cable Roving Cam  Be watching and listening for the showing dates.
Previously
Jamestown (Downtowner News Letter)  The Jamestown Downtown Association will host its Annual Holiday Dazzle on First Avenue Parade on Friday November 26 at 7-p.m.
The parade will start at McElroy Park and travel north on First Avenue, ending at the railroad tracks.
Downtown Jamestown will again be filled with lights and pageantry , giggling children and Santa and his sleigh.
Following the parade Shady's will host a get together with Christmas Carols, cookies, hot beverages, and the awards for the Best Floats.
For information on sponsorship opportunities  including promotional announcements, logo placement on posters, and acknowledgements during parade night, and in the Downtowner News Letter, Contact Lynn Lambrecht at 701-320-7217, or Nancy Miller at 701-269-3148, or info@jamestowndowntown.org
Parade entries are $25 for JDA members and $35 for non-member
This year's grand marshal will be Robin Iszler, the 2020 recipient of the Jamestown Chamber of Commerce Above & Beyond award..
The Holiday Christmas Light Decorating contest is being planned this holiday season.
CSi File Photos from 2016
More CSi Photos from 2015
Also more photos at Facebook.com/TheReplayChannel
View the 2019 Holiday Dazzle on Main Parade here online, at Facebook.