Alex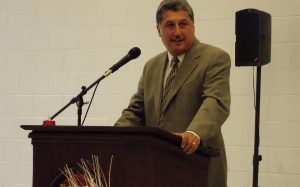 President of Schweitzer Consulting, LLC and former head of the North Dakota State Hospital System, has been selected as the President of the Bison World Fund, a non-profit corporation that will be used to structure an investment from the state's $8.3 billion legacy fund.
Developer, Brian Lunde reports that upon his selection, Schweitzer announced that the Bison World Fund will unveil its master plan on November 30, 2021 to the public and to local and state elected officials.  He says, "We are ready to start the project tomorrow.  We just need the State Investment Board to quickly develop a process to  review this opportunity under our new in-state investing law. We can start bidding key elements of this theme park now and break ground next Spring."
Eide Bailly, one of the nation's leading accounting and business advisory firms, recently completed financial forecasts showing that the planned tourism attraction will be a highly profitable investment for the state.  The five-year projected returns show an average annual return to the state of between $6.8 and $7.8 million or 11 %, exceeding the current average performance of the legacy fund.
North Dakota's tourism director, Sara Otte Coleman said that Bison World will add a "destination attraction" and "will put us on the map" following her visit to the proposed site in August.  A formal market study showed that the state-owned land adjacent to I-94 is a "highly desirable location" for a new tourism attraction due to its "easy access and excellent visibility." The study also found that the site enables the state to generate a profitable financial return on non-producing state land.
Apogee Attractions, a leading national theme park design firm, recently completed the comprehensive master plan following a detailed planning process. The firm has also agreed to serve as the developer and operator of the facility upon investment from the legacy fund. Mr. Robert McTyre, founder of Apogee Attractions and former Walt Disney Attractions executive, will present the plans over a three-day period beginning November 30, 2021 in Jamestown.
JSDC CEO, Connie Ova says,   "We have completed all the ground work required to make this project a great investment for the people of North Dakota.  The plans are done, the financial analysis is completed, the operator is in place and the investment structure has been formed."  The JSDC board of directors earlier this year authorized up to $600,000 to complete the planning process for this state investment.