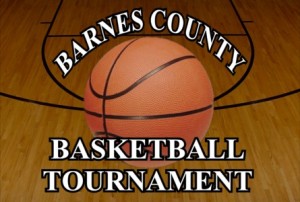 Valley City  (VCSU/Mark Potts) – Valley City State University will once again host the annual Barnes County High School Basketball Tournaments this winter.
The Girls Barnes County Tournament is set for Dec. 7, 9 and 11 and will feature six teams vying for the championship. LaMoure/Litchville-Marion is the top seed and the five-time defending champion in the girls tournament.
The Boys Barnes County Classic is scheduled for Jan. 11, 13 and 14. The boys will play a "classic" format will all matchups predetermined. The boys field will likely include several top ranked Class B teams in the state. A tournament champion will not be crowned on the boys side.
All games will be played at VCSU's W.E. Osmon Fieldhouse. A schedule for both tournaments is below.
SPONSORS: Major tournament sponsors include Valley City State University, VCSU Athletics, the Valley City Chamber of Commerce, the Valley City Convention and Visitors Bureau, Sodexo, and Pizza Corner.
2021 Girls Barnes County Tournament
Tuesday, Dec. 7 – Day 1
4:30 p.m.: (1) LaMoure/Litchville-Marion vs. (4) Maple River
6:00 p.m.: (2) Sargent County vs. (6) Enderlin
7:30 p.m.: (3) Wyndmere-Lidgerwood vs. (5) Barnes County North
Thursday, Dec. 9 – Day 2
4:30 p.m.: (4) Maple River vs. (6) Enderlin
6:00 p.m.: (2) Sargent County vs. (3) Wyndmere-Lidgerwood
7:30 p.m.: (1) LaMoure/Litchville-Marion vs. (5) Barnes County North
Saturday, Dec. 11
5th place – 12:00 p.m.: 5th and 6th best records vs. each other
3rd place – 1:30 p.m.: 3rd and 4th best records vs. each other
Championship – 3:00 p.m.: Top 2 records vs. each other
Tiebreaker Criteria to determine Saturday matchups
1. Head-to-head
2. Point differential (up to 17)
3. Fewest points allowed in two games
4. Highest seeded team
*After a multiple team tie is broken, the tiebreaker reverts back to head-to-head
2022 Boys Barnes County Classic
Tuesday, Jan. 11
3:00 p.m.: Maple River vs. Barnes County North
4:30 p.m.: Enderlin vs. LaMoure/Litchville-Marion
6:00 p.m.: Dunseith vs. Wyndmere-Lidgerwood
7:30 p.m.: Sargent County vs. Four Winds JV
Thursday, Jan. 13
3:00 p.m.: Barnes County North vs. Wyndmere-Lidgerwood
4:30 p.m.: Maple River vs. Sargent County
6:00 p.m.: Dunseith vs. LaMoure/Litchville-Marion
7:30 p.m.: Enderlin vs. Hillsboro-Central Valley
Friday, Jan. 14
3:00 p.m.: Central Cass JV vs. Barnes County North
4:30 p.m.: Sargent County vs. Wyndmere-Lidgerwood
6:00 p.m.: Enderlin vs. Dunseith
7:30 p.m.: LaMoure/Litchville-Marion vs. Maple River