CSi Weather…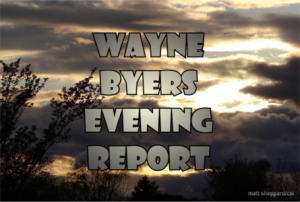 WEDNESDAY NIGHT…Mostly cloudy in the evening then clearing. Colder. Lows 5 to 10 above. North winds 10 to 20 mph shifting to the northwest 5 to 10 mph after midnight.
.THANKSGIVING DAY…Sunny. Highs in the upper 20s. South winds 5 to 15 mph.
.THURSDAY NIGHT…Mostly cloudy. Lows in the lower 20s. South
winds 10 to 15 mph.
.FRIDAY…Partly sunny. Highs in the lower 40s. West winds around
10 mph.
.FRIDAY NIGHT…Mostly cloudy. Lows in the upper 20s.
.SATURDAY…Partly sunny in the morning then clearing. Highs
around 40.
.SATURDAY NIGHT…Partly cloudy. Lows in the lower 20s.
.SUNDAY…Partly sunny. Highs in the lower 40s.
.SUNDAY NIGHT…Partly cloudy. Lows in the upper 20s.
.MONDAY…Mostly sunny. Highs in the mid 40s.
.MONDAY NIGHT…Increasing clouds. Lows in the mid 20s.
.TUESDAY…Partly sunny. Highs in the mid 30s.
The North Dakota Department of Health dashboard is updated daily by 11 am and includes cases reported through the previous day. The investigations are ongoing and information on the website is likely to change as cases are investigated. The information contained in this dashboard is the most up to date and will be different than previous news releases. This dashboard supersedes information from previous news releases or social media postings.
Check out our other dashboards: The COVID-19 Vaccine Dashboard, NDUS Dashboard.COVID- 19 stats:
COVID-19 Stats
Wed. Nov. 24, 2021
10:30 -a.m.
Barnes
New Positives:  5
Total Positives: 2019
Active: 35
Recovered:  1941
Breakthrough Incidents Per 10K Fully Vaccinated Individuals: 300
Stutsman
COVID-19 Stats
New Positives: 34
Total Positives: 4770
Active: 81
Recovered: 4563
Breakthrough Incidents Per 10K Fully Vaccinated Individuals: 345
North Dakota
NEW CASES …REPORTED WEDNESDAY, NOV. 24: 530
ACTIVE CASES: 3,120
DAILY POSITIVITY RATE: 6.5%
TOTAL KNOWN CASES THROUGHOUT PANDEMIC: 159,842
TOTAL RECOVERED THROUGHOUT PANDEMIC: 154,855
North Dakota's active cases increased by 63 over the previous day.
ACTIVE HOSPITALIZATIONS: 176
DEATHS REPORTED WEDNESDAY: 6
TOTAL DEATHS: 1,867
Jamestown (Downtowner News Letter)  The Jamestown Downtown Association will host its Annual Holiday Dazzle on First Avenue Parade on Friday November 26 at 7-p.m.
The parade will start at McElroy Park and travel north on First Avenue, ending at the railroad tracks.
Downtown Jamestown will again be filled with lights and pageantry , giggling children and Santa and his sleigh.
Following the parade Shady's will host a get together with Christmas Carols, cookies, hot beverages, and the awards for the Best Floats.
For information on sponsorship opportunities  including promotional announcements, logo placement on posters, and acknowledgements during parade night, and in the Downtowner News Letter, Contact Lynn Lambrecht at 701-320-7217, or Nancy Miller at 701-269-3148, or info@jamestowndowntown.org
Parade entries are $25 for JDA members and $35 for non-member
This year's grand marshal will be Robin Iszler, the 2020 recipient of the Jamestown Chamber of Commerce Above & Beyond award..
The Holiday Christmas Light Decorating contest is being planned this holiday season.
CSi File Photos from 2016
[easyrotator align="left"]erc_84_1480276313[/easyrotator]
More CSi Photos from 2015
[easyrotator align="left"]erc_81_1448424286[/easyrotator]
Also more photos at Facebook.com/TheReplayChannel
View the 2019 Holiday Dazzle on Main Parade here online, at Facebook.
Jamestown  (CSi)  The Jamestown Arts Center is offering more classes, and Arts After School will resume after the Christmas Holiday Break.
On Wednesday's Wayne Byers Show on CSi Cable 2 Arts Center Director Mindi Schmitz also pointed out that Perfectly Paired  returns this year and in 2022.  She said that it is a wonderful experience in The Arts Center gallery. Enjoy excellent company, perfectly paired wines & cheeses and other tasty morsels. You'll also hear from the exhibiting artist for the debut of "The Art of Writing."
Perfectly Paired Gallery Experience Thursday, December 2nd at 6:00 pm Seating is limited. $25 dollars per person. Please stop by the office or give us a call to make your reservation.
December 2, 2021 @ 9:00 am – January 8, 2022 @ 5:00 pm
The Arts Center, 115 2nd St. SW
Jamestown, ND 58401 United States + Google Map
The BisMan Writers Guild paired with the North Dakota Art Gallery Association to put together a traveling art show, funded by Dakota West Arts Council.  The Art of Writing is a project unlike any other. This show brings together writers & artists together to create original pieces based on each other's already established pieces
Also coming up at the Arts Center,Let's Rock Out With Our Pots Out! with Shelly Sayler. Two days of clay studio fun! December 11 – 12 with 3 sessions available.
Join them for a weekend of pottery! Learn how to make lovely ceramics from Nodakian Studios, Shelly Sayler. Space is VERY limited, register soon if you are interested! You can check out Shelly and her studio here: www.nodakianstudios.com.
Is throwing as much fun as it looks? YUP! This 2 part class of almost all one-on-one instruction helps me share the process with you and guide you to some successful throwing practices. On day two you will be refreshed and ready to rock, learning how to trim a foot into your pieces!
There are three sessions to choose from: 9:00 am – 12:00 pm, 1:00 – 4:00 pm OR 6:00 – 9:00 pm. Call the office to register for this class at 701-251-2496.
On line visit: jamestownarts.com or call 701-251-2496.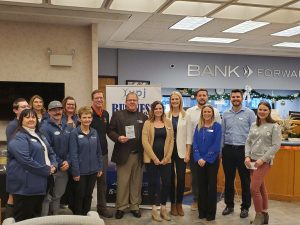 Jamestown  (Chamber)  The chamber Young Professionals of Jamestown and the Chamber Ambassadors recently recognized Bank Insure Tax Invest Forward as the November Business of the Month Award recipient for their outstanding customer service and continued commitment to the community.
Their nomination stated, "Bank Forward and all their various Forward entities here in town do a fabulous job. They really stepped up in this last year to help local small businesses like me through the process of applying for and getting forgiveness for COVID related funds. I didn't think my business would have qualified, but they actually pointed it out to me and helped me apply. I would not have pursued it or known about it if it wasn't for them. I'm sure all our local financial institutions did a great job helping the community through this process, but Bank Forward employees went above and beyond. I'm so thankful I bank with them. They helped save my business!"
The Jamestown Area Chamber of Commerce honors businesses that provide superior customer service, exhibit community spirit and provide a positive economic impact to the community.  This award provides recognition throughout the month with a plaque and a recognition banner for the month. Monthly award winners will be considered for the Business of the Year to be awarded in January of 2022.  Business of the Month award nomination forms are available at the Chamber office and online at www.jamestownchamber.com. Call 701-252-4830 for more information.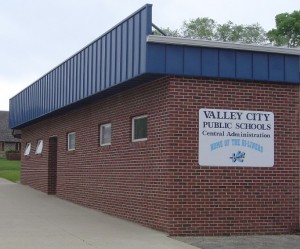 Valley City( CSi) Valley City High School Seniors will be able to get a fasting cholesterol test December 3. The Testing is coordinated  with Valley City Public Schools and City County Health District , The test to include total cholesterol, HDL, LDL, triglycerides, and blood sugar for a minimum charge of $35.
Consent forms for parents and/or students need to be completed by Friday, December  in order to participate. Consent forms have been  given to each student.
Valley City High School is committed to preparing graduating seniors to oversee their own lives as adults, including the area of health. The only health class students take is in grade 9, so to refresh the student the seniors will have the opportunity to take the Personal Wellness Profile which is FREE. If the student is under 18 years of age, the parent or legal guardian will need to sign a consent form to participate. The information from the cholesterol test combined with the Personal Wellness Profile questionnaire will give each student a complete health risk assessment now that they are young adults.
The Personal Wellness Profile report for seniors encourages healthy eating, exercising regularly, wearing seatbelts, etc. Height, weight and blood pressure are also included with the profile report. The benefit to the students is that they will learn about the tests they should do on a continuing basis throughout their adult years.
The hope is that all students will take advantage of this great opportunity to start their adult life aware of their health risks so they can be as healthy as they can be! For more information contact Andrea Winter, Licensed Registered Dietitian at City County Health District at 845-8518.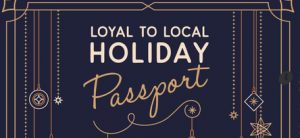 Jamestown  (Chamber)  The Jamestown Area Chamber of Commerce is launching the "Loyal To Local,"  shop local program, gearing to keep holiday shopping dollars in Jamestown.
Chamber Executive, Emily Biven said, "Holiday Passport," Booklets can be picked up at the Chamber Office, and then starting November 27, to be taken to participating local businesses to get stamped when making a purchase.  The fully stamped booklet can then be turned into the Chamber office, to be eligible for prizes donated by Jamestown businesses.
Emily hopes the promotion will generate about $100,000 during the holiday shopping period and through January 8, 2022.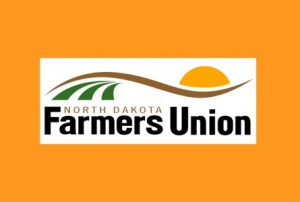 Jamestown  (NDFU)   – North Dakota Farmers Union (NDFU), the state's largest farm organization, will kick off its 95th annual state convention Friday, Dec. 10, at the Bismarck Event Center. Highlighting the mix of educational speakers, entertainment and policy debate will be the giveaway of a Polaris Ranger 1000 to one lucky convention-goer on Saturday night.
Members are looking forward to remarks from U.S. Secretary of Agriculture Tom Vilsack, National Farmers Union President Rob Larew, and a Fairness for Farmers panel that will address market consolidation and its impact on family farmers and ranchers.
The highlight of the convention is the Torchbearer ceremony on Saturday night, where 49 youths will earn the organization's highest youth honor. Keynote speaker is Tammy Krings, a former Torchbearer and NDFU education director who is the CEO of Minneapolis-based The Conversations That Matter.
The election of officers (president, vice president and district directors), Farmers Union Insurance's annual meeting, live and silent auctions, entertainment by an ABBA tribute band and the musical group Too Old To Stand round out the two-day celebration.
An exciting youth convention for kids in grades 1-8 will also run simultaneously both days with drawings on Saturday night for two Harley Davidson electric balance bikes, two Apple iPads, and an Apple MacBook Air.
The convention is open to the public. A $70 registration fee is required ($50 early bird rate available until Dec. 3). Day care is also available. To register, go to ndfu.org.
BISMARCK, N.D. (AP) — The state Board of Medicine brought 11 formal disciplinary actions against North Dakota doctors this year. The number includes three sanctions that resulted in physicians losing their license to practice in the state. Figures show the number of disciplinary actions in 2021 was two fewer than the previous year, but matched the annual tally in 2018 and 2019. Alcohol-related incidents typically make up the bulk of the board's sanctions. Doctors in the state also were disciplined for such things as incompetence, unethical behavior, substandard care, and criminal offenses. The group reviews up to 120 cases against doctors annually.
BISMARCK, N.D. (AP) — North Dakota health officials say the rate of flu vaccinations for children continues to decline. The state Department of Health says that 13,000 fewer dozes of influenza vaccine have been administered to children this fall compared to the same time last year. That's on the heels of an 8% decline in the number of shots in the 2020-21 season. State Health Officer Dr. Nizar Wehbi says children are especially vulnerable to the flu, which is spread through coughs, sneezes, shared saliva and the touching of contaminated surfaces. The severity of the disease can range from mild to deadly. Health officials recommend that anyone older than six months of age be vaccinated against the flu.
In world and national news…
BRUNSWICK, Ga. (AP) — Jurors have convicted the three white men charged in the death of Ahmaud Arbery. He was the Black man who was chased and fatally shot while running through their Georgia neighborhood in an attack that became part of the larger national reckoning on racial injustice. The convictions for Greg McMichael, son Travis McMichael and neighbor William "Roddie" Bryan came after jurors deliberated for about 10 hours. The men face minimum sentences of life in prison. The judge will decide whether that comes with or without the possibility of parole. An attorney for Arbery's father said Arbery's spirit "defeated the lynch mob."
(AP)  After three men were convicted in the murder of her son, Ahmaud Arbery's mother said she never thought she'd see the day come. It's been a long, hard fight, Wanda Cooper-Jones told a crowd gathered outside the courthouse in Glynn County. But she said her son can rest in peace now. Greg McMichael, son Travis McMichael and neighbor William "Roddie" Bryan were convicted Wednesday in Arbery's death. Cooper-Jones' attorney hailed his client's unflinching fight for justice. Cooper-Jones said said her slain son "will now rest in peace."
KENOSHA, Wis. (AP) — When he was acquitted of murder for shootings during unrest in Kenosha, Kyle Rittenhouse went from staring at possible life behind bars to red-hot star of the right. He taped an exclusive interview with Tucker Carlson and went with his mom to visit Donald Trump at Mar-a-Lago, where the two men were photographed smiling and snapping a thumbs-up. For Rittenhouse, a year of legal uncertainty over whether his claim of self-defense would stand up has given way to uncertainty over what's next. Even as he figures out his next moves, fundraising is continuing on his behalf, ostensibly to retire legal bills from his trial but perhaps in recognition that he may face civil lawsuits over the shootings.
DENVER (AP) — A federal judge has ordered two lawyers who filed a class action lawsuit alleging the 2020 presidential election was stolen from Donald Trump to pay more than $180,000 in attorney's fees for the defendants. U.S. Magistrate Judge N. Reid Neureiter said the lawsuit was a publicity stunt to manipulate "gullible members of the public" and helped spur the Jan. 6 insurrection at the U.S. Capitol. The judge stayed the awards pending an appeal of the lawsuit, which relied on baseless conspiracy theories spread by the former president and his supporters. It named elected officials in four swing states, Facebook, the company's founder Mark Zuckerberg and Denver-based Dominion Voting Systems, whose election machines were at the center of some of the most fevered speculation.
NAPERVILLE, Ill. (AP) — The suburban Chicago families of two college students who were among those killed this month at the Astroworld concert in Houston have joined the growing ranks of those who are suing rapper Travis Scott and companies involved with the event. In their wrongful death lawsuit, the Naperville families of 20-year-old Jacob Jurinek and 21-year-old Franco Patino contend Scott and the companies involved failed to take even the most basic safety precautions before the concert descended into chaos and left 10 dead and hundreds injured. Jurinek and Patino, both college students, were close friends who had played on the same high school football team.