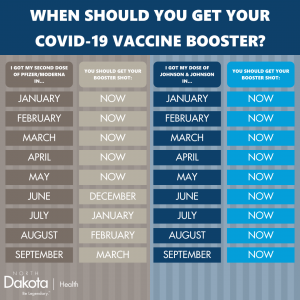 Bismarck  (NDDoH)  – Recently the Centers for Disease Control and Prevention (CDC) updated guidelines for COVID-19 booster vaccines, expanding eligibility to all adults over 18 years of age who have completed their primary series.
In advance of the holiday season, the North Dakota Department of Health (NDDoH) is encouraging all adults (18 years and older) who are eligible to receive a booster shot of the COVID-19 vaccine to do so.
Booster shots are recommended for adults who received their second dose of the Pfizer-BioNTech or Moderna vaccines at least six months ago or received one dose of Johnson & Johnson's Janssen (J&J/Janssen) COVID-19 vaccine at least two months ago.
Individuals may "mix and match" COVID-19 boosters following a primary series. The NDDoH has created a Mix and Match Booster Fact Sheet to help individuals decide which vaccine is best for them as a booster. The NDDoH has also created a graphic to help people quickly identify their eligibility for a booster on the time since their last COVID-19 vaccine.