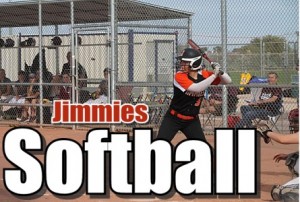 The University of Jamestown softball team jumped from ninth to fifth place in the GPAC regular season standings on Monday afternoon at Trapper Field with a pair of wins over Hastings.
GAME ONE: UJ 4, HASTINGS 1
Kat Miska tossed a complete game during the first game to put Jamestown in a spot to go to the GPAC postseason tournament. On senior day, Steph Cota drove in a run in the bottom of the fourth inning to tie the game and later, the Jimmies would stretch the lead to 3-1 off a defensive error by Hastings. In the fifth, Gracie Fischer gave Jamestown some breathing room with a solo shot to right, her fifth of the season. UJ ended the game with four runs on seven hits and no errors defensively.
GAME TWO: UJ 14, HASTINGS 9
It was an offensive slugfest from the start in game two as Hastings and Jamestown traded the lead through the first four innings before the Jimmies struck for five runs in the bottom of the fourth to take the advantage for good. UJ totaled 20 hits in game number two, including a 4-for-5 performance by Santina Zito for the win on senior day. LaLa Romero went 3-for-5 with three runs driven in, Julia Byrne finished 2-for-3 with a home run, and Sunny Halsey was also 2-for-2 with two RBIs. Haley Schaefer worked an inning and two-thirds to get the win, her second of the season. Lauren Diemert provided the winning runs in the fourth inning with two RBIs on a double.
Jamestown, now 23-22-1 on the year, makes a quick turnaround and heads into the GPAC postseason tournament as the #5 seed. UJ will face Morningside on Wednesday at Midland starting at 2:00 PM.