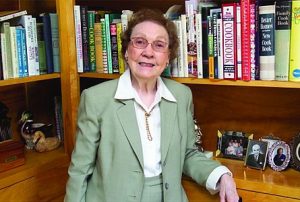 Jamestown   (CSi)  Shirley (Rolfs) Meidinger died Tuesday, May 3rd in Edina, MN at 98. She was raised on a farm in Lawton, Iowa. In 1945, she graduated from Iowa State University as a home economist, and moved to Minneapolis, where she had her office in the Foshay Tower. She was a businesswoman ahead of her time in the 1940's and '50's.
In 1962, she moved to Jamestown and married Roland E. Meidinger. She embraced the community, joining the First United Methodist Church, P.E.O., A.A.U.W., Portfolio Club and Wednesday Club. She supported the University of Jamestown, the Jamestown Regional Medical Center, and most recently, the Meidinger Splash Pad.
"Young children always brought a smile to her face," her obituary states. "Her cookies and parfaits were loved by all, and she was an accomplished seamstress. Books and travel inspired her. She had a good eye for design, and a very quick mind. While Shirley was independent, she doted on family and friends. She visited and wrote often, and in Jamestown, she enjoyed her many clubs and playing bridge."
Services will be held at the First United Methodist Church on Monday, May 9, 2022, at 11:00 a.m., with visitation beginning at 10:00 a.m. Interment will be in Highland Home Cemetery. Memorials can be made to the Church or the University of Jamestown.
Eddy Funeral Home is in charge of arrangements.