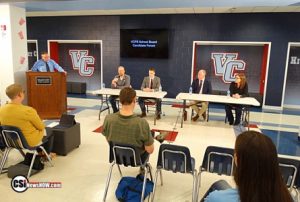 The candidates' forum for the Valley City Public School Board airs on CSi 10 The Replay Channel.  Replays will air again prior to election day.
The forum was held Wednesday May 11 in the Hi Liner Activity Center sponsored by the Valley City Education Association.
The five candidates vying for two open seats include
Katie Woehl
James "Tony" Puckett
Phil Hatcher
Damian Johnston
Darin Anderson.
The Valley City Public school board election will be held in the Central Office Conference Room from 9am to 7pm on June 14.