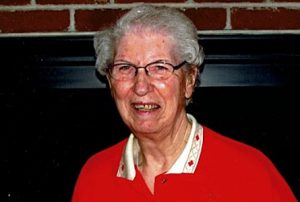 The funeral for Joyce Rodin, 87, Valley City, ND, formerly Litchville, ND, will be held at 2:00 PM, Monday, June 13, 2022, at Grace Free Lutheran Church, with Rev. Dennis Norby officiating.  Interment will be in Memory Gardens, near Valley City.  She died June 7, 2022, at SMP St. Raphael in Valley City.  Visitation will be the hour prior to the service.  The funeral will be livestreamed then archived and available to view along with her obituary at www.lerudmathias.com
Joyce Darlene Schall was born February 11, 1935, on the family farm in Spring Creek Township near Litchville, ND, the daughter of Leo N. and Nellie (Martin) Schall.  Joyce grew up and attended school at Litchville School and Interstate Business College of Fargo, ND.  She worked at Mercy Hospital, with the ND High School Activities Association and the Barnes County Extension Office.  She was with Electrical Builders, Inc. for 23 years and her last years were with Ludvigson, Braun, & Co and Lafarge Dakota, Inc.
In 1955, she married Don Rodin in Valley City, where they made their home.  They divorced in 1978.
Joyce was a member of Grace Free Lutheran Church, Valley City.
She is survived by her son, Darrell (Sharon); granddaughter, Moriah Taylor; great grandson, Oliver Taylor; and a sister, Doris Aas.
She was preceded in death by her parents; son, David; brother, Leo; and sisters, Margaret Elm and Esther Matt.
The Lerud Mathias Funeral Home is assisting Joyce's family with arrangements.