Jamestown (JRMC) – Jamestown Regional Medical Center's Auxiliary is celebrating summer with a new event.
The Book, Bake & Craft Sale is set for Thursday, June 23rd from 7 a.m. to 1 p.m. This is the first event onsite at Jamestown Regional Medical Center since the pandemic. Since it is an on-site event, masks are required.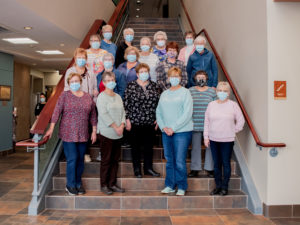 The sale will be held at JRMC outside the Gift Shoppe. Shoppers may choose from a variety of homemade crafts, baked items, books and puzzles. All proceeds benefit the JRMC Cancer Center.
The JRMC Cancer Center opened in 2019 in partnership with Sanford Health. Since then, it has saved families more than 500,000 miles of travel. Each month, the cancer center team offers more than 200 chemotherapy infusions in six naturally lit, private infusion bays.
"This cause was important to the Auxiliary because they care about patients and helping people," said JRMC Foundation Director Lisa Jackson.
Auxiliary member and event organizer Alice Williams said the event is a great opportunity to also shop for unique handmade items like candy, baby gifts, purses or handmade blankets.
"In previous years, people lined up before the event started, so they could buy the baked goods they wanted," Williams said. "It's great to see the community rally to support such a great cause, supporting JRMC Cancer Center."
The JRMC Auxiliary consists of more than 40 volunteers, and meets the first Monday of each month. If interested in volunteer opportunities, call (701) 952-4809.