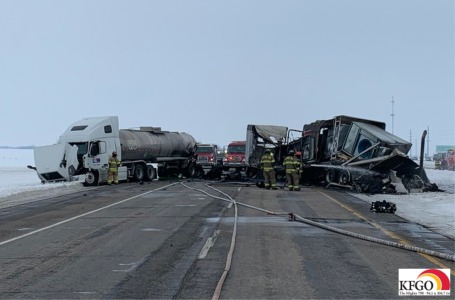 The Volvo semi was westbound on I-94 and had stopped in lane two of westbound I-94. The Peterbilt semi approached the Volvo, swerved left, but rear ended the tanker trailer being towed by the Volvo.
As a result of the collision, the Volvo semi was pushed onto the westbound shoulder and partially into the ditch and came to rest facing west. The tanker trailer being towed by the Volvo was punctured and began to leak ethylene glycol from the puncture in the trailer.
The Peterbilt came to rest across the westbound lane and partially into the median facing west. The Peterbilt caught fire because of the crash. The Peterbilt was hauling large HVAC equipment.
Both vehicles remained upright after the collision.
The Mapleton and Casselton Fire Departments responded and extinguished the fire. After the fire was put out, it was discovered the driver of the Peterbilt, Randall Buxton, was still in the cab and was deceased.
An estimated 6500-6700 gallons of ethylene glycol leaked from the tanker trailer into the north ditch along I-94. Ethylene glycol is green antifreeze and is not a hazard to the motoring public. An environmental company was dispatched to remediate the glycol spill. The remediation process is on-going.
Eastbound I-94 was closed for approximately an hour after the crash. Westbound I-94 remained closed for approximately eight hours and re-opened around 9:30 pm last evening. Traffic was detoured from these roadways at Mapleton and Casselton to ND State Hwy. 10. The Cass County Sheriff's Office and the NDDOT assisted with these road closures and detour routes.
The Fargo Fire Department assisted on scene as part of the hazardous material response. The NDDOT assisted with containing the glycol spill in the ditch.
On March 16th, Yuhai Zhu was arrested for Negligent Homicide, C Felony, and booked into the Cass County Jail.