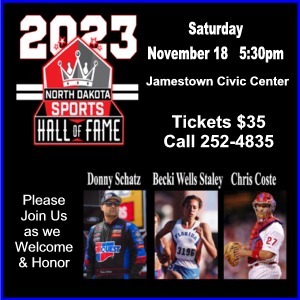 JAMESTOWN, N.D. (The FAN) – The North Dakota Sports Hall of Fame is this Saturday November 5:30pm at the Jamestown Civic Center honoring their 2023 inductees and the list includes Chris Coste, Becki Wells Stanley, and Donny Schatz.
Coste is a former professional baseball player and the current manager of the Fargo-Moorhead RedHawks. He played with the Philadelphia Phillies, where he became a World Series champion in 2008, and Houston Astros.
Coste, a Fargo South graduate, also coaches the Concordia Cobbers, his alma mater. He has been there since 2014, but recently announced he will step down at the end of the 2023 season.
Becki Wells Staley is a 20-time state Track and Cross Country Champion from Dickinson High School and a 13-time NCAA D1 All-American. She competed at Alabama and Florida. Becki was an Olympic Trials qualifier and ran professionally for Nike and Reebok.
Donny Schatz, a Minot High graduate, is a professional sprint car driver who has competed in the World of Outlaws since 1997. He currently has 306 wins and 10 championships and drives full-time in the No. 15 Ford for Tony Stewart Racing.
Schatz began racing go karts at 11 and moved to 358 sprint cars at age 15.