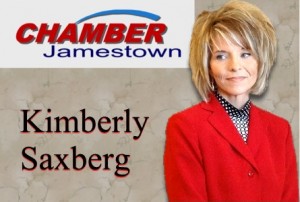 Jamestown, ND (KCSi-T.V. News) — The Jamestown Area Chamber of Commerce has confirmed that Kimberly Saxberg has stepped down as the Chamber's Executive.
Chamber President, Tim Burchill says, Ms. Saxberg and the Chamber parted ways, on Tuesday October 9, 2012.   The Jamestown Chamber of Commerce Board of Directors had hired  Saxberg to serve as the organization's Executive Director June 1st of 2011, replacing JoDee Rasmusson, who had served the Chamber as the Executive Director for six years.   He did not indicate a specific reason, only to say that she "left voluntarily."
Burchill says a search committee is being formed to find a new Chamber of Commerce, Executive.  He added that the regular day to day operations of the Jamestown Area Chamber of Commerce is continuing.
Original post Oct 11, 2012  2:20pm