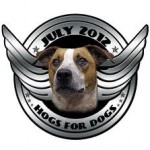 Jamestown, ND (KCSi-T.V. News) — Stutsman Harley-Davidson, along with the Stutsman Harley Owners Group (HOGS) presents the 7th Annual, "Hogs For Dogs," on Saturday July 28, 2012.
On Thursday's Wayne Byers Show on CSi Cable 2, Don Wegner, said The event is the annual fundraiser to support the James River Humane Society.
Breakfast and registration is at Stutsman Harley Davidson at 9:30-a.m., with the ride leaving at 11-a.m., sharp.
The registration fee is $15 per bike. He said motorcycles will be available to rent.
Wegner said there will be four stops on the ride, including a windmill farm in Kulm and lunch in Gackle, with a free will offering.
There will be a hotdog eating contest with participants timed in eating five hotdogs. There will also be a hog calling contest.
Donate any pet food and receive 15% off any one single item at Stutsman Harley Davidson…EXCLUDING MOTORCYCLES.
Wegner added, in the past about $500 to $600 in pet food has been donated, and about $1,000 was rasied to support the operations of the James River Humane Society.