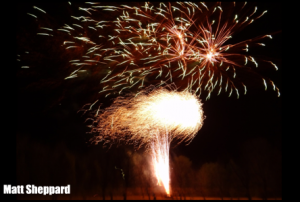 Jamestown (CSi) Legal sales and detonation of fireworks in the City of Jamestown is allowed the first day of July through the fifth day of July.
Hours
July 1: noon to 11pm
July 2: noon to 11pm
July 3: noon to 11pm
July 4: noon to 1am July 5
Police Chief Scott Edinger says no fireworks may be donated after 1-a.m., on July 5th.
You cannot detonate fireworks from 11:00 P.M. to 12:00 P.M. (noon) within the City of Jamestown.
Translation:  you can shoot off fireworks July 1-2-3 from noon to 11pm.  On the 4th, noon to 1am of the 5th.
The sale of fireworks shall be allowed only in areas zoned commercial or industrial.
No person shall offer any fireworks for sale unless such person is a resident of the city or living within the one-mile area under the city zoning control.
The Jamestown City Council may, by resolution, allow the sale or use of fireworks at any other time or date during the calendar year.
The public fireworks display will be held Wednesday night July 4th at the Stutsman County Fairgrounds, slated to start at 10-p.m. – after the races.