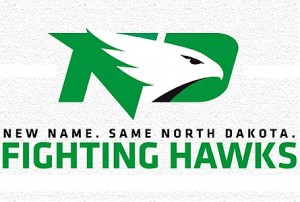 GRAND FORKS, N.D. (AP) — People not happy with the University of North Dakota's new Fighting Hawks logo are signing an online petition in an effort to get it changed.
The petition states that "it is not too late to have a new logo designed by someone we can all stand behind."
The university unveiled the new logo Thursday. It depicts a white hawk head with black shading and a black eye, atop the letters "ND" in green.
The school retired its controversial Fighting Sioux nickname nearly four years ago after the NCAA deemed it to be hostile and abusive. The Fighting Hawks nickname was selected in a vote of alumni, students and staff.
The online petition has gathered more than 2,000 signatures. It suggests that the artist who designed the Fighting Sioux logo creates the new one.