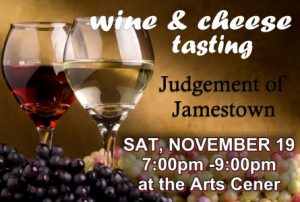 Jamestown (CSi)  The Jamestown Arts Center's 2016 Wine and Cheese Tasting "Judgement of Jamestown," will be on Saturday November 19, 2016, from 7-9-p.m., at the Arts Center.
This year the celebration notes the 40th anniversary of the "Judgement of Paris."
A wine tasting competition held in Paris that pitted California wines against the highly regarded French wines, with surprising results.
Those participating the Arts Center event can decide for themselves if the foreign or domestic wines win over their palette.
Tickets at the Arts Center, or Cork and Barrel at $35.
Proceeds benefit Arts Center programs, including, Arts After School, Art for Life, Artist in Residencies, and more.
Must be 21 or older to attend.